People often talk about the art and science of medicine. Recently, the business of medicine has also started to demand physicians' attention. As a result, more and more physicians are pursuing business education to help them regain control over their professional lives or the future of their careers.
And if you want to join the ranks of physicians returning to school to learn the business of medicine, you've got more options to choose from than ever before.
Today's online learning can be flexible and convenient without expensive and time-consuming commutes. You can get the same quality of education as on-campus students without compromise.
Ultimately, the time when being a physician was focused solely on clinical needs is gone. Instead, a modern physician needs to be a hybrid of multiple disciplines, with business being one of the most critical to survival and career success.
Doctors who want to keep up now have multiple education options. Online business training for physicians breaks down into two broad categories.
Master's Degree programs
Certificate programs (CMEs)
Whether a master's degree or certificate program would be the best choice for you depends a lot on your experience and goals and how well you've defined them.
Below is a list of the best online business schools and courses in both categories. They focus on the types of business skills that will be particularly helpful, such as:
Healthcare administration
Organizational leadership
Understanding the intersection of technology, medicine, and business
Competence in revenue cycle processes and technology
Entrepreneurial vision and skill
Marketing to patients/patient retention
Mergers and acquisitions
Master's Degree Programs
Degrees in health administration have been around for decades and are available from the baccalaureate to the doctoral level. For established physicians interested in a business focus, a traditional MBA or even an MBA in health management are options.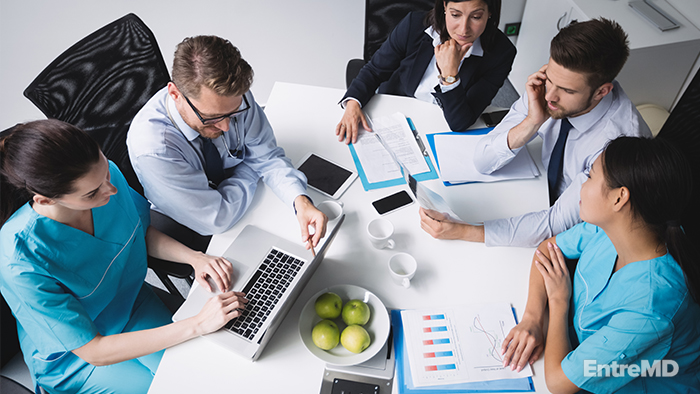 Some of the most helpful business degree programs are on in the following areas:
Healthcare Administration
Healthcare Management
Finance
Healthcare Informatics
Public Administration
The highest-ranking online MBA programs in 2022 are:
Certificate Programs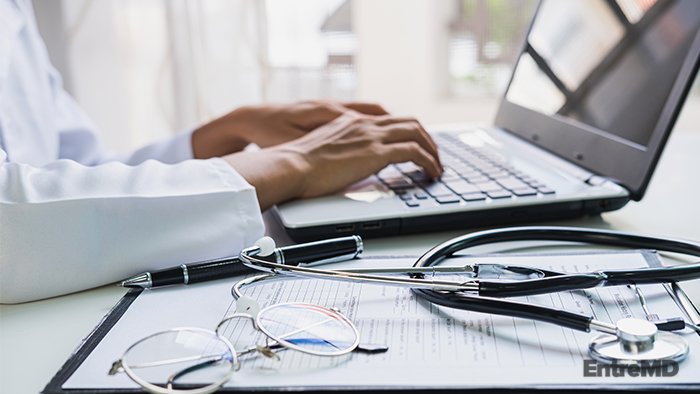 Most physicians who want to learn more about the business of health care can take any number of certificate courses that give them CMEs towards their certificate completion. These are popular for doctors who aren't sure they want or need a master's degree.
American Association for Physician Leadership (AAPL)
The AAPL offers a mix of online programs, including continuing medical education courses. They range in credit value, and if you become a member ($50-$295), you'll get a reduced rate.
Here's a taste of the types of courses they offer: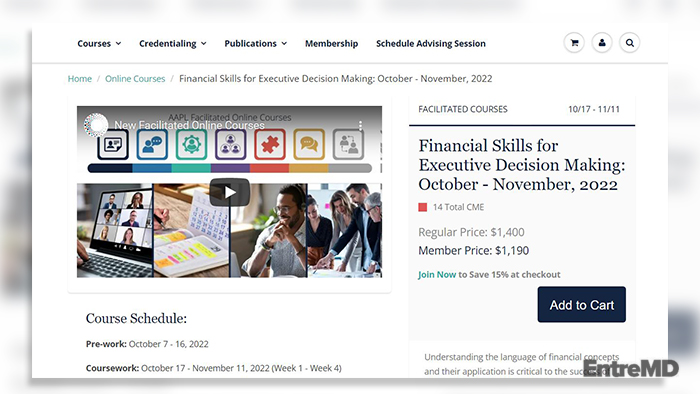 Course Name: Financial Skills for Executive Decision Making
Total CMEs: 14.0
Regular price: $1,400
Member price: $1,190
Course description:
"Understanding the language of financial concepts and their application is critical to the success of physician leaders. This course will demystify the language, tools, and application of finance and help prepare you to apply them to the goals of your organization.

The course will also focus on increased understanding of finance terminology, the application of tools utilized, and how decisions are made from a financial investment perspective. Participants will walk away with a thorough understanding of how financial decisions can impact their organization."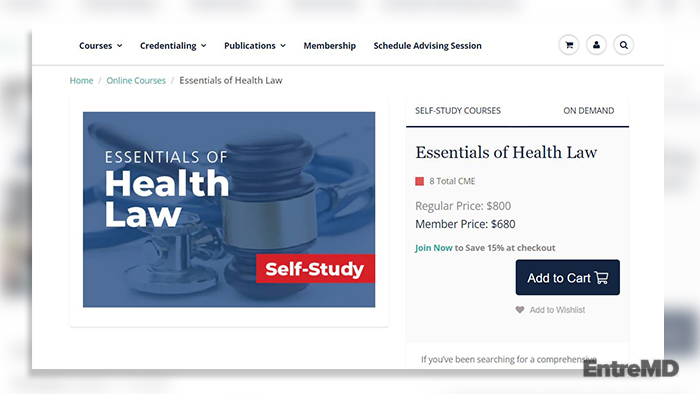 Course Name: Essentials of Health Law
Total CMEs: 8.0
Regular price: $800
Member price: $680
Course description:
"If you've been searching for a comprehensive education on the most pressing healthcare law issues of today, then this course is for you. The world of healthcare law encompasses a wide body of the law regulating the provision of healthcare services and governing the relationship between healthcare providers and their recipients.

Throughout this course, you'll learn about topics such as medical error liability, managed care contracting, patient rights, equal opportunity in the workplace, and more."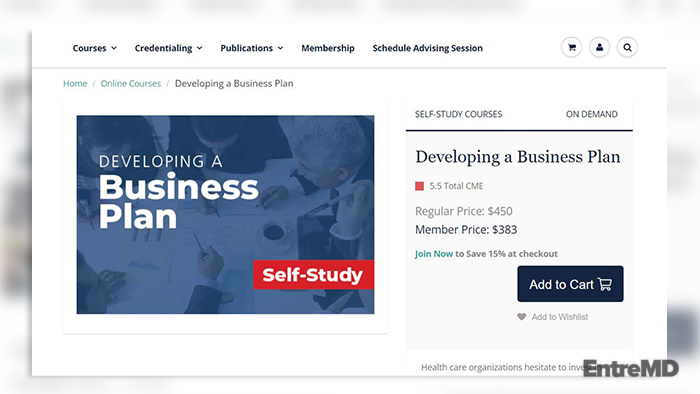 Course Name: Developing a Business Plan
Total CMEs: 5.5
Regular price: $450
Member price: $383
Course description:
"Health care organizations hesitate to invest in initiatives without fully understanding the likely return on investments. It is common for organizations to demand a business plan to justify the expense of new projects and ventures.

It's also essential for physician leaders to understand business plans, including each key element of a plan. Learn to draft business plans for new programs, projects, and ventures for existing organizations — as well as for new business development. This course requires your additional purchase of the book, Business Plan Kits for Dummies (ISBN: 978-1119245490). "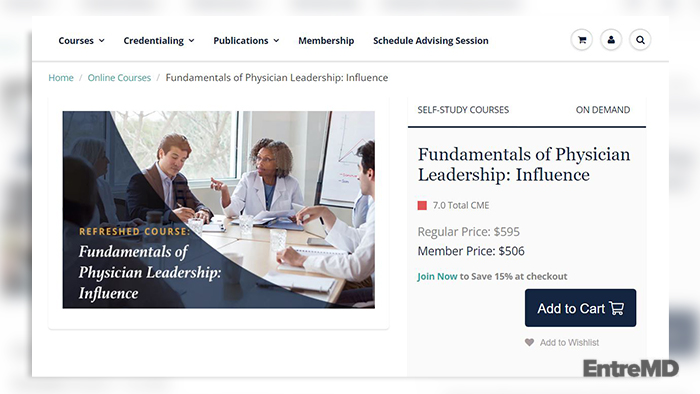 Course Name: Fundamentals of Physician Leadership: Influence
Total CMEs: 7.0
Regular price: $595
Member price: $506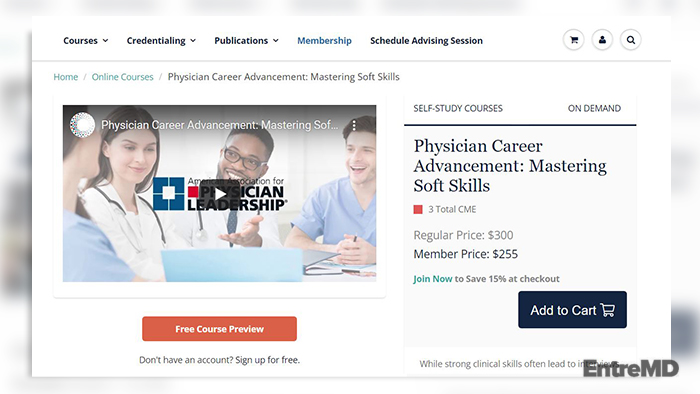 Course Name: Physician Career Advancement: Mastering Soft Skills
Total CMEs: 3.0
Regular price: $300
Member price: $255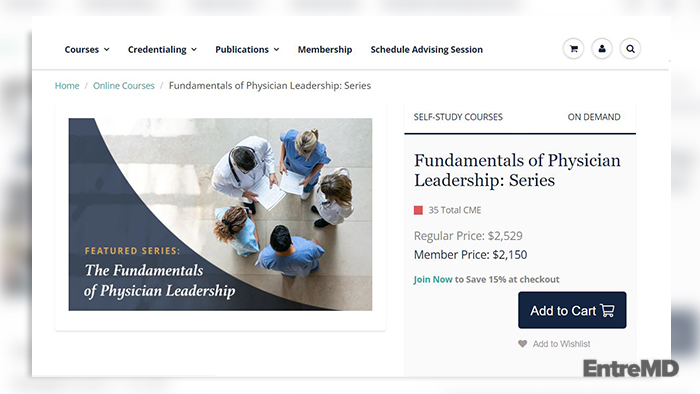 Course Name: Fundamentals of Physician Leadership: Series
Total CMEs: 35.0
Regular price: $2,529
Member price: $2,150
The American College of Healthcare Executives (ACHE)
ACHE also offers a mix of online programs, including virtual face-to-face courses and digital learning. Their digital learning takes place in 60-minute live webinars that offer real-time access to business topics and include an interactive Q&A session.
Check out this year's upcoming webinars.
ACHE's on-demand learning lets you earn ACHE Qualified Education credits at your own pace from wherever you have internet access. The American College of Healthcare Executives is jointly accredited to provide continuing education for the healthcare team by:
The Accreditation Council for Continuing Medical Education (ACCME)
The Accreditation Council for Pharmacy Education (ACPE)
The American Nurses Credentialing Center (ANCC)
The Academy of Physician Assistants
Some of these courses include: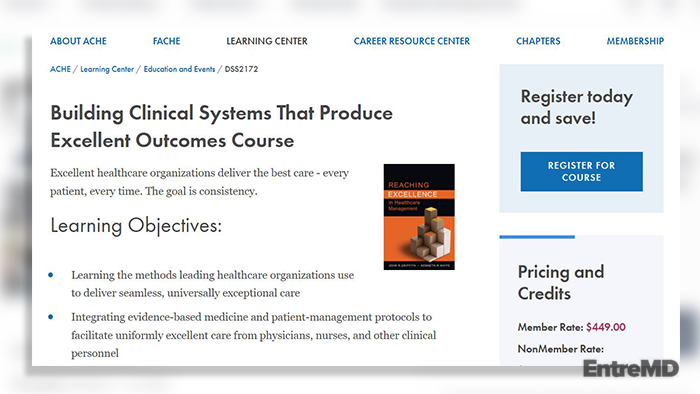 Course Name: Building Clinical Systems That Produce Excellent Outcomes
ACHE credits: 6.0
Regular price: $529
Member price: $449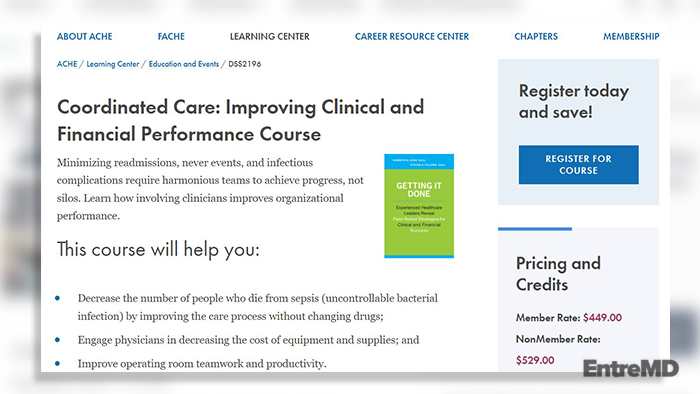 Course Name: Coordinated Care: Improving Clinical and Financial Performance
ACHE credits: 6.0
Regular price: $529
Member price: $449
Course description:
"Decrease the number of people who die from sepsis (uncontrollable bacterial infection) by improving the care process without changing drugs, engage physicians in decreasing the cost of equipment and supplies, and improve operating room teamwork and productivity."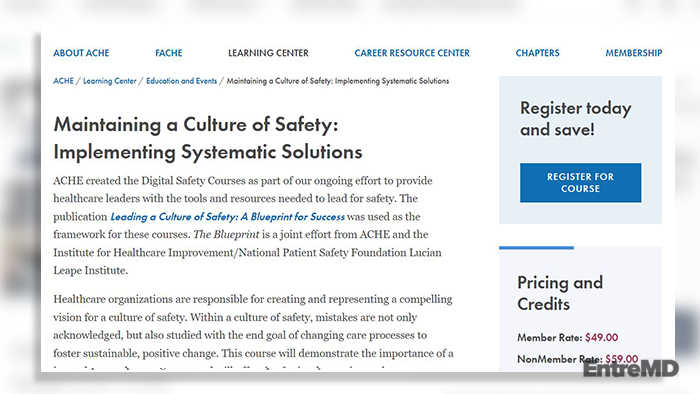 Course Name: Maintaining a Culture of Safety: Implementing Systematic Solutions
ACHE credits: 1.0
Regular price: $59
Member price: $49
Course learning objectives:
"Examine the leadership prerequisites for developing and sustaining a high-reliability culture and practice in a healthcare organization, explore the changes healthcare organizations must undertake to begin the journey to high reliability, and review the similarities and differences between healthcare organizations and other high-reliability enterprises, and demonstrate how to leverage both to the benefit of patients and staff."
Harvard Online
Harvard Online also offers business-related online courses, including: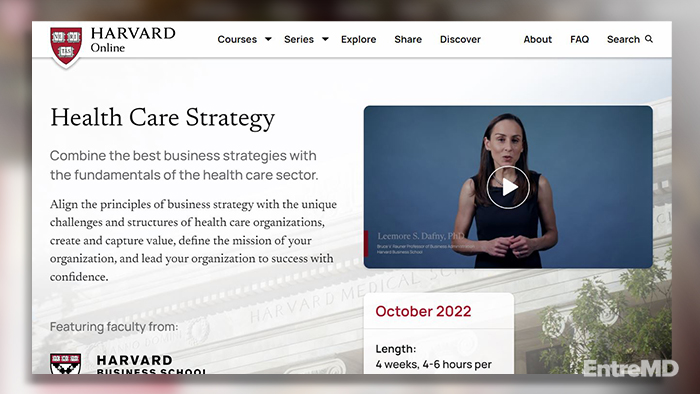 Course Name: Health Care Strategy
Total CMEs: 24 AMA PRA Category 1 credit
Course price: $1,600
Course description:
"This online course is designed to '…help you align the principles of business strategy with the unique challenges and structures of health care organizations. The course will enable you to create and capture value, define the mission of your organization, and lead your organization to success with confidence.'"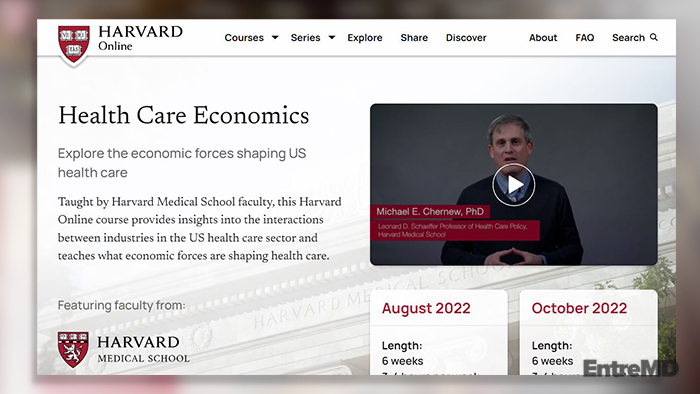 Course Name: Health Care Economics
Total CMEs: 19.5 AMA PRA Category 1 credits
Course price: $1,600
Medscape's Physician Business Academy
Medscape offers three certification courses that are each worth 0.25 CMEs and take only 15 minutes to complete: Once you complete a course, you'll take a test, and you'll choose the best answer to each test question. To receive a certificate, you must receive a passing score designated at the top of the test.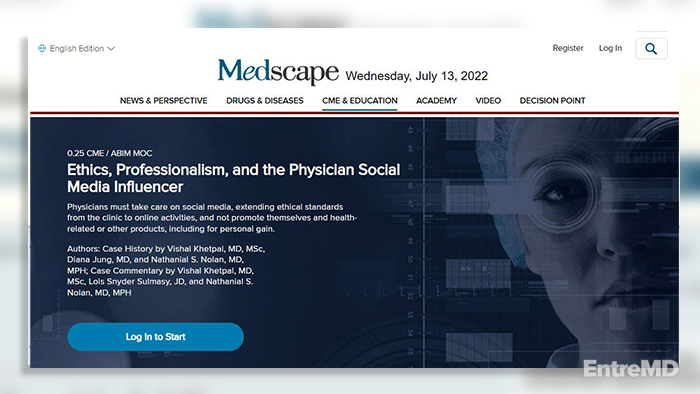 Course Name: Ethics, Professionalism and the Physician Social Media Influencer
Credits: 0.25
Course price: Free
Course description:
"The goal of this activity is to describe why being a physician social media influencer can be ethically problematic as well as other challenges involved in physician use of social media, according to an American College of Physicians (ACP) ethics case history and commentary.

Upon completion of this activity, participants will be able to:

Describe the ethical considerations of using social media, according to an ACP ethics case history and commentary. Determine potential negative consequences of physician-influencers promoting products or services on their social media, especially for financial or other gain according to an ACP ethics case history and commentary. Identify potential benefits of physicians using social media, according to an ACP ethics case history and commentary."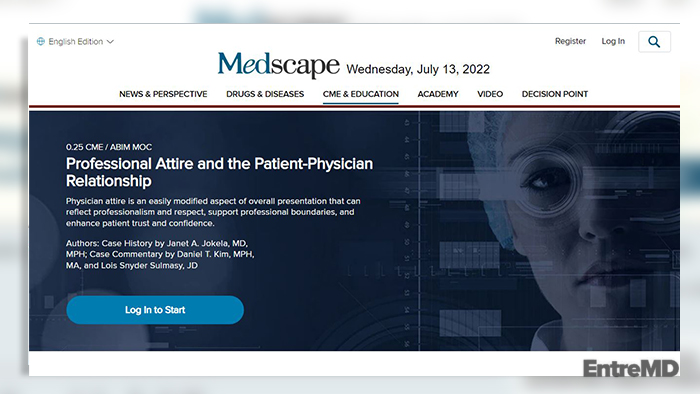 Course Name: Professional Attire and the Patient-Physician Relationship
Credits: 0.25
Course price: Free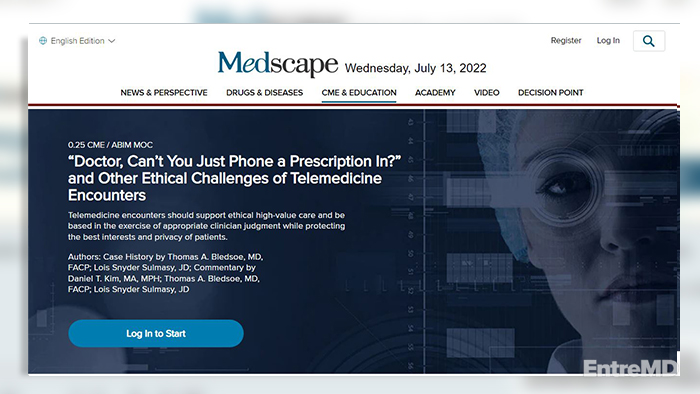 Course Name: "Doctor, Can't You Just Phone a Prescription in?" and Other Ethical Challenges of Telemedicine Encounters
Credits: 0.25
Course price: Free
Medscape also offers a host of business-related courses that will help you keep up with business topics from a physician's perspective and offer a wealth of content to support your business-related learning. In addition, you'll receive a certificate of completion once you pass the self-assessment test.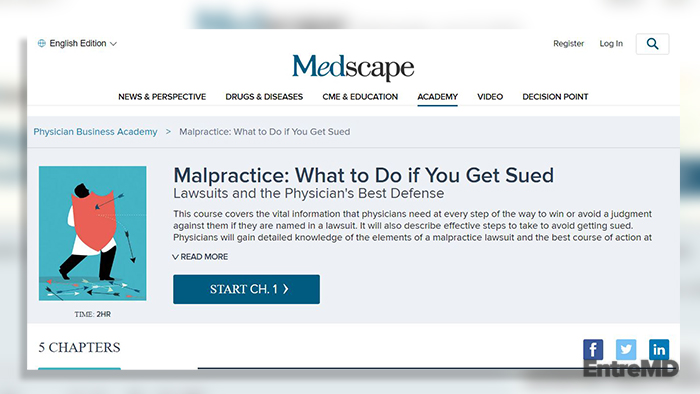 Course Name: Malpractice: What to Do if You Get Sued
Credits: None
Time: 2 hours
Course price: Free
Course description:
"This course covers the vital information that physicians need at every step of the way to win or avoid a judgment against them if they are named in a lawsuit. It will also describe effective steps to take to avoid getting sued.

Physicians will gain detailed knowledge of the elements of a malpractice lawsuit and the best course of action at each juncture; how to prepare for depositions and trial; and the types of settlements that they may have to choose.

You'll learn:

How plaintiffs win their cases, requirements to prove negligence, and the role of expert witnesses; key issues in lawsuits with multiple defendants and steps to be wary of as a lawsuit progresses; the role of mediation and arbitration, types of settlements, and the pros and cons of each; and preparing for depositions and trial, your right to appeal, and how to prevent a lawsuit."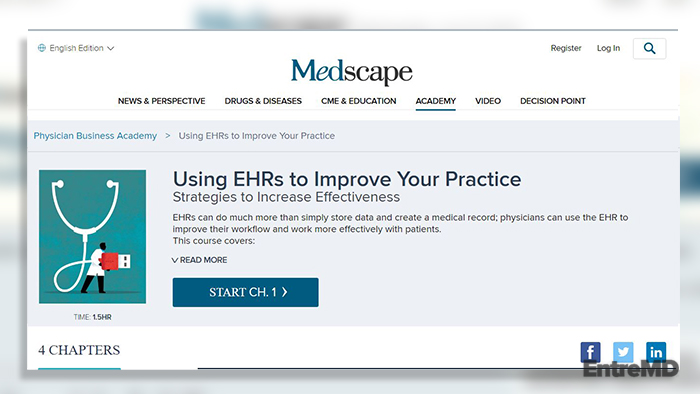 Course Name: Using EHRs to Improve Your Practice
Credits: None
Time: 1.5 hours
Course price: Free
Course description:
"EHRs can do much more than simply store data and create a medical record; physicians can use the EHR to improve their workflow and work more effectively with patients.

This course covers:

How to determine whether your EHR provides the patient and charting services needed to meet reporting requirements and streamline your office workflow, how to identify useful EHR features that physicians most likely are not using, effective ways to use the EHR in the hospital and office, as well as the important issue of staff access to EHR data, and strategies to use with patients who collaborate, and how to monitor the EHR's performance to ensure that it remains effective"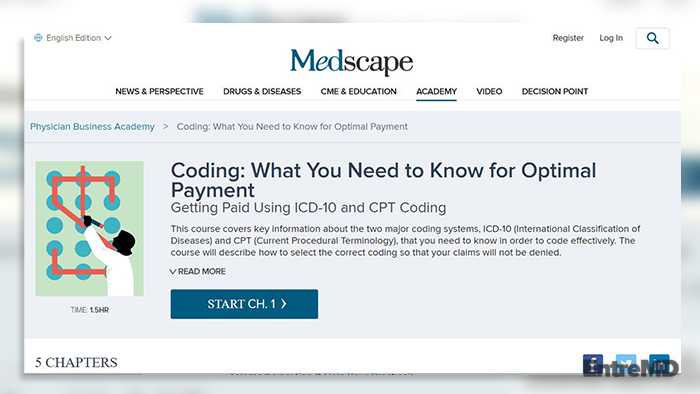 Course Name: Coding: What You Need to Know for Optimal Payment
Credits: None
Time: 1.5 hours
Course price: Free
Course description:
"This course covers key information about the two major coding systems, ICD-10 (International Classification of Diseases) and CPT (Current Procedural Terminology), that you need to know in order to code effectively.

The course will describe how to select the correct coding so that your claims will not be denied. Physicians will gain detailed information about how to understand the coding systems and how to code accurately, how to use code modifiers, and how to avoid common coding mistakes. "
Other Medscape business courses include, but aren't limited to:
The EntreMD Business School
And of course, no list of online business schools would be complete without my passion project: The EntreMD Business School.
It's the only school of its kind that helps physicians become thriving entrepreneurs who make money, have an impact, and have time for the things that matter.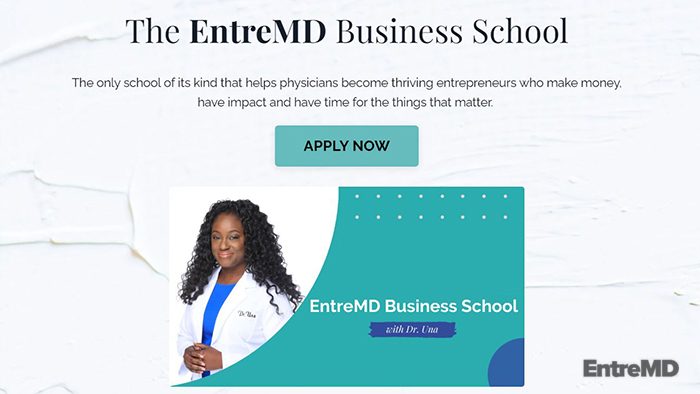 Does this sound like you?
You love being a physician, but lately, you feel less than fulfilled. You're itching to do something new.
You want to start a business, but you have no idea where to start. Should you buy a domain name and a WordPress theme? Or hire a designer to create a logo? It's just so overwhelming.
Or you're in private practice but tired of struggling and striving for exposure. Because you're just not getting new patients.
Maybe you have a blog, podcast, or thriving Facebook community you just haven't been able to monetize. It's a secret you just can't seem to unlock.
Your business is ready for the next level, but you can't seem to get there despite your best efforts. You wish you knew the next steps to take.
Here's what Dr. Jennifer had to say after enrolling in The EntreMD Business School.:
"I had my best month EVER, making THREE times more than I ever have. I nearly fell over when I did the math. I am beyond excited and now setting new goals! I am thinking that there is nothing I can't do. I look at problems now as puzzles that need to be put together. I am back running, doing yoga, and organizing. I hired some new staff, and I just feel great. I also have more time and energy for my kids, and I come to them with intention. I set boundaries for myself, and I plan time for everything (me, my husband and children, and my staff!)."
Let me help you achieve the kind of success you've always dreamed of at EntreMD Business School!