The EntreMD Method
A Proven Roadmap for Doctors Who Want to Live Life and Practice Medicine on Their Terms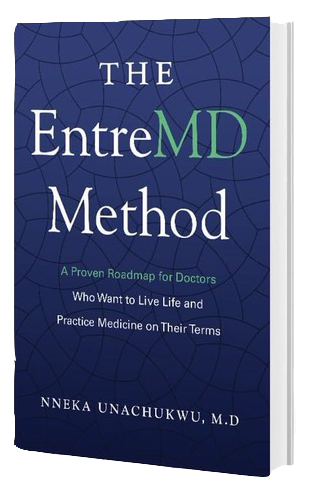 Not everyone can do what it takes to become a doctor—but you did. From graduating medical school to completing your residency, each step has gotten you closer to living the life you've envisioned since first completing that med school application.
But are you living the life you want?
You signed up to save lives and help change the world, not to build a brand and become an entrepreneur. Still, to succeed, you need a plan for navigating the business of your profession. In The EntreMD Method, pediatrician and entrepreneur Nneka Unachukwu provides a roadmap for strategizing your business and building a successful brand that reflects your goals. Whether you're interested in coaching and consulting, running a product-based business, starting a nonprofit, or opening a private practice, leveraging proven sales and marketing practices will help lay the financial foundation you personally need. Learn how to tackle this next challenge head-on and take control of your life with Dr. Una's roadmap for living life on your terms.
"It's more important than ever for doctors to take control of their lives. One way to do that is through the power of entrepreneurship. Through this book, Dr. Una will give you a roadmap to make this a reality."
"The EntreMD Method is the new 'pocket MBA' for physicians. Dr. Una has developed the blueprint for MDs who want to take control of their careers and lives. It's a must-read."
"Dr. Una is the real deal. She practices what she preaches and she knows of what she speaks. She has her own lived experience of opening and growing a successful clinical practice, podcast, coaching program, and online business. She has guided countless physicians through this journey of entrepreneurship with wisdom and ease. She has full belief that any physician can utilize their MD or DO as the foundation upon which they can contribute their expertise in a wide range of incredibly meaningful ways. If you're a physician entrepreneur or considering becoming one, you'll want Dr. Una in your corner."
"Dr. Una has laid out a solid groundwork for physicians to reclaim their power in medicine and, in doing so, reclaim their joy. This book will change a lot of physicians' lives. Highly recommend!"
"I have the privilege of speaking to people all over the world at conferences and seminars. During these events, I get to meet men and women who have big dreams of making an impact and helping others. Years ago, I met Dr. Una at one of these conferences. I quickly realized that she is one of the rare people who not only gets inspired to make a difference but knows how to take action and get results. After consistently growing her medical practice, Dr. Una has become an expert at helping other doctors succeed in business and marketing while still enjoying life. She has a generous heart and shares practical advice and encouragement for physicians through her books, conferences, mentorship, and popular EntreMD Podcast. She truly inspires me!"
"With The EntreMD Method, Dr. Una brings a much-needed beam of hope to physicians, for whom burnout is so prevalent today. Doctors are empowered to take a closer look at their knowledge, experience, and passion and to reimagine an entrepreneurial approach to their service. This allows them to reclaim joy and fulfillment in their personal and professional lives."
"The secrets to personal success have never changed—organization, ambition, inspiration, and effort—and Dr. Una embodies them all. I would trust Dr. Una to work with any of my clients on the precipice of taking that magic leap into controlling their own futures, whether it's to open an independent practice or not. People think that doctors don't need cheerleaders and guides, but they couldn't be more mistaken. Physician satisfaction has never been lower, and Dr. Una is here to fix it."
Author
Dr. Nneka Unachukwu is a board-certified pediatrician and the founder and CEO of Ivy League Pediatrics outside of Atlanta, Georgia. She graduated from the University of Nigeria College of Medicine and completed her residency in New Jersey before opening her own practice. After honing her entrepreneurial skills, Dr. Una created the EntreMD business school, podcast, and community to help physicians build personal brands around their expertise, open practices, and develop product lines. Featured in Forbes and a member of the Forbes Business Council, she has helped doctors all over the world leverage entrepreneurship to build lives they love.