I love studying successful people; I listen to them and admire their talent to speak and communicate with their audience. And I thought, "I need to up-level my ability to speak. I need to up-level my ability to communicate my message. I need to up-level my ability to turn my message into a movement."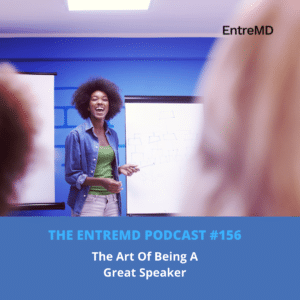 In this episode, I'll share with you how I overcame being an introvert to hosting an online live show every week and how you can go from good to great. I will share the two main things I decided to do to up-level my speaking. Because speaking is the fastest way to get your message out there, start a movement or grow a business. And by improving the way you communicate with people, you have a bigger chance to improve your business. 
Listen to the latest podcast this week to discover how you can be a better speaker to reach out to your clients, and expand your connections by embracing the art of speaking that will ultimately help you in your entrepreneurship journey.
If you need help either discovering your zone of genius or figuring out how to present it to the world, you need to join the EntreMD Business School. Enrollment is closed for now, but you can join the waitlist for the grand reopening, and in the meantime, listen and apply what I'm sharing on the podcast. 
If you loved this episode of The EntreMD Podcast, I invite you to join my signature subscription program EntreMD On Demand, giving you access to a library of business courses designed to help you thrive as a physician entrepreneur! 
Things you'll learn from this episode: 
Why do you need to be a great speaker

Two things you can start doing today to improve your speaking

How to be the kind of speaker audiences can't get enough of

How to leverage the power of your experiences, ideas, and concepts
Featured on the Show:
If you're ready to build a business that lets you live life and practice medicine on your own terms, check out the EntreMD Business School!
Enjoy the Show?