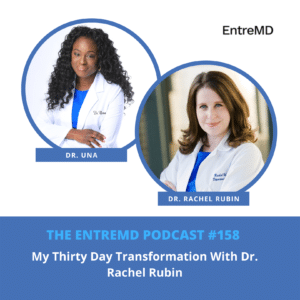 When I started my podcast and the EntreMD Business school, one of my goals was to help physicians to start their own businesses. I wanted to provide them with an environment that would foster learning, accountability and community. I have had the privilege of doing this with over one hundred students in the school and I love sharing their stories with you.
My guest on today's episode is Dr Rachel Rubin, a urologist who specializes in the treatment of sexual dysfunction in men and women. She discovered the EntreMD podcast and joined the EntreMD Business School a week later. She shares how she has stepped outside of her comfort zone, conquered her anxieties and is now ready to start her own private practice. 
She also talks about the critical mindset shifts she has experienced since joining the EntreMD Business School. 
If you loved this episode of The EntreMD Podcast, I invite you to join my signature subscription program EntreMD On Demand, giving you access to a library of business courses designed to help you thrive as a physician entrepreneur! 
What You'll Learn from this episode:
Why Dr Rachel Rubin decided to join the EntreMD Business School

How her life had changed when she joined the EntreMD Business School 

How she changed her mindset about her growth, and progress over perfection 

How listening to the podcast helped her overcome her stress and anxiety 

The importance of having a group where you can get motivation and feedback for the things you do

Dr Rachel Rubin shares how she started the digital promotion of her business
Listen to the Full Episode:
Featured on the Show:
If you're ready to build a business that lets you live life and practice medicine on your own terms, check out the EntreMD Business School!

Email me