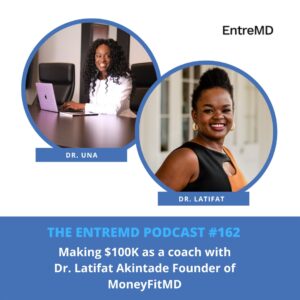 We've heard stories of people re-evaluating their money goals when the pandemic started. And the past year made us realize that we need to get things going, start a business, improve the way we manage our finances, and be more driven to reach our goals.
And helping people manage their finances is one of the missions of our guests today, Dr Latifat Akintade and founder of MoneyFitMD, a money coach for women physicians. In this episode, Dr Latifat will take us behind the scenes on her experiences on what has motivated her to focus on her mission and to give us a glimpse of how she made $100K in the last twelve months. She talks about the wins, challenges and her top lessons. 
Tune in this week to know more about how you can work on reaching your milestones as an entrepreneur, too! 
If you loved this episode of The EntreMD Podcast, I invite you to join my signature subscription program EntreMD On Demand, giving you access to a library of business courses designed to help you thrive as a physician entrepreneur! 
What You'll Learn from this episode:
Why Dr Latifat Akintade decided to start MoneyFitMD

The top five things that contributed to Dr Latifat's success in business, helping her hit the $100k milestone

She shares the type of clients that she has helped with her business.
Listen to the Episode Here:
Featured on the Show:
If you're ready to build a business that lets you live life and practice medicine on your terms, check out the EntreMD Business School!