Dr. Catherine Toomer shares her experience in the EntreMD Business School in this special episode with Dr. Tamara Beckford.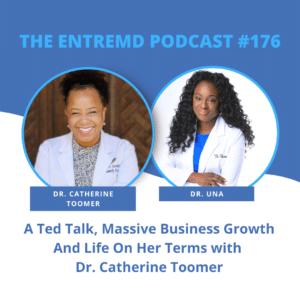 Dr. Toomer emphasizes on finding purpose and being comfortable in sharing her stories online. She believes in enjoying the journey and cause of every action she undertakes. Dr. Toomer shares how she overcomes the challenge of engaging her stories to the public and discovers the possibilities when doors of opportunities open.
Stay tune this week's podcast as Dr. Toomer shares how stepping out of doubts will bring you to greater heights. She says that failure is a part of making progress in whichever path you are on. 
Dr. Toomer also has a message for her fellow physician-entrepreneurs who are still thinking about joining the EntreMD Business School. 
If you need help either discovering your zone of genius or figuring out how to present it to the world, you need to join the EntreMD Business School. Enrollment is now open for the June 2022 cohort!
If you loved this episode of The EntreMD Podcast, I invite you to join my signature subscription program EntreMD On Demand, giving you access to a library of business courses designed to help you thrive as a physician entrepreneur!