Talk to almost anyone these days about podcasting, and you're sure to hear, "I love listening to podcasts! My favorites are…."
Rewind just over ten ago, and it was a different story. Only 22% of the adult population was even aware of podcasting. Last year, almost 80% of Americans were familiar with the term, with more than 82 million listening to at least one podcast during the past month.
Everyone has their own reasons for listening to podcasts, and the offerings are wide and varied. The most popular podcast genres, according to research, are:
Comedy
News
Society and Culture
True Crime
Sports
Business
Arts
TV and Film
Education
Religion and Spirituality
History
Health and Fitness
Music
Science
Leisure
It makes sense, doesn't it? Anyone with a phone and a pair of in-ear headphones can listen to content wherever they want, whenever they want to, whatever they want.
Learning while you listen to podcasts is a great way to multi-task while doing activities that don't require heavily focused attention. Activities like household chores, gardening, exercising, and driving. 
According to Insider Intelligence, podcasts inspire more brain stimulation than TV, and the greatest proportion of podcast listeners are highly educated, wealthy adults. Whether there's a link between podcasts or education and wealth isn't commented on, but learning while listening to podcasts is a valuable investment of time and attention.
I'm a big believer in continuous education and have come to really love and value the podcast medium. Here are ten of my favorite podcasts, especially for doctors and physicians.
There are a surprising amount of medical podcasts available across different platforms, and I've curated ones that address different areas of healthcare, along with why I take the time to listen.
10 of The Best Podcasts For Doctors and Physicians
Drum roll, please. Working my way down from number 10, here is my list of recommended podcasts worth listening to for doctors and physicians:
This podcast had me at "Hustle." Carrie Reynolds, MD, is a pediatric gastroenterologist and serial entrepreneur. Her podcast resonated with me as a fellow pediatrician by trade and a physician entrepreneur at heart.
I love how she describes her work, "women physicians finding freedom in life, work and finances." She hosts guests who can speak on various topics, including COVID-19, mental health among frontline healthcare workers, and emotional eating.
Amen.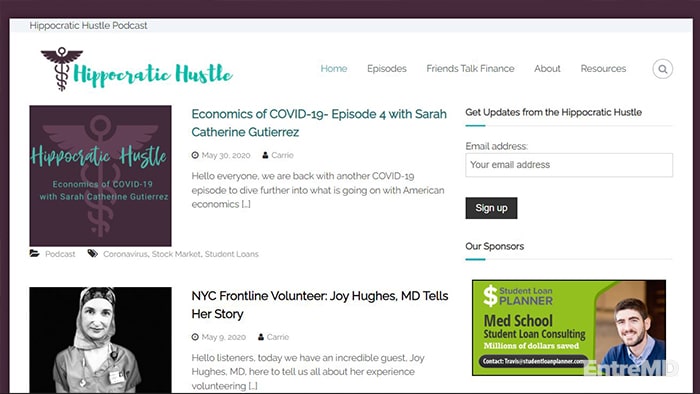 The Hippocratic Hustle Podcast shares stories of women physicians who developed entrepreneurial pursuits or side projects and found their freedom. Dr. Carrie helps others to find financial freedom and achieve financial independence.
Although her latest podcast aired in the spring of 2020, I'm hoping a new episode will pop up on my feed, and I'll get to spend a half hour in her company.
A sampling of podcast episode titles:
Economics of COVID-19 — Episode 4 with Sarah Catherine Gutierrez
Emotional Eating with Dr. Siobhan Key
Letizia Alto, MD — Real Estate Investing with SemiRetiredMD
The Curious Clinicians is "A Medical Podcast That Asks, 'Why?'" It's hosted by Dr. Hannah Abrams, an internal medicine resident in Boston, MA, along with Dr. Tony Breu, an internist/hospitalist, and Dr. Avraham (Avi) Cooper, a pulmonary/critical care physician from Columbus, OH.
They share their love of asking questions like, "Why do diseases present in certain ways? What are the mechanisms of treatments we use? Why does the human body function as it does?"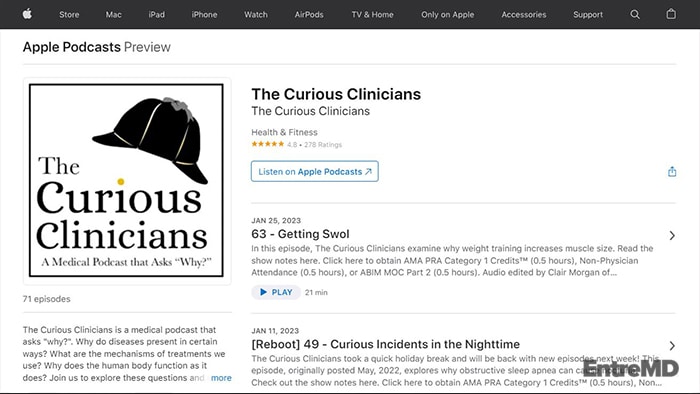 The three hosts have an easy rapport, and I like their interaction's lighthearted, conversational style as they pose a medical question and then break down, analyze, and answer it. While the topics aren't always in my lane of medicine, I enjoy spending 20 minutes satisfying my curiosity on all things medical.
A sampling of podcast episode titles:
Of Ticks, Alpha-Gal, and Red Meat Allergies
Why Does Magnesium Treat Torsades de Pointes?
The Man Who Purposefully Paralyzed Himself
Dr. Zubin Damania, aka ZDogg, is a UCSF/Stanford-trained internist and founder of Turntable Health, an innovative primary care clinic, and model for Health 3.0. His videos and live shows have gone "epidemically viral."
I do like an occasional well-reasoned rant, especially if it comes from someone who's an excellent and entertaining communicator. Dr. Z is known for his straight and practical talk, laced with compassion for the human condition.
In a 2015 interview, Damania relayed to CHCF Blog that his podcast was "born in 2010 out of his frustration with the 'worst parts of the healthcare system, the part that turns clinicians and patients against each other,' and that ends up 'doing stuff to patients instead of for patients."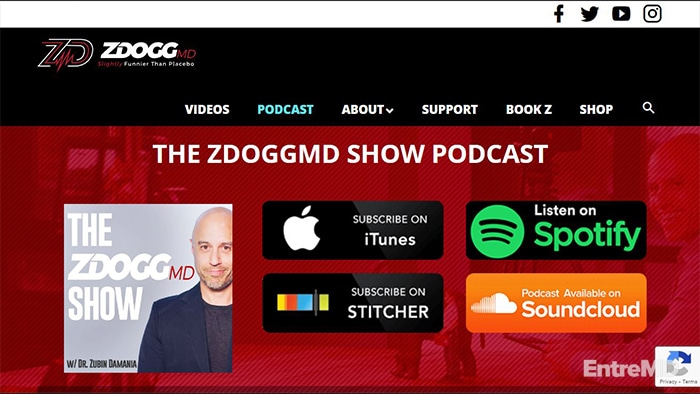 His "ZDoggMD" is an alter ego that lets him say things he "couldn't or wouldn't professionally." Clearly, it's working for him, as he has over a billion views of his videos (separate from the podcast). To date, he has released 511 podcast episodes, and I enjoy the guests and interviews on medical topics in a social and global setting.
As a heads up, he doesn't mind using rough language as he talks.
A sampling of podcast episode titles:
Breaking the Silence: Shame in the Medical Community (with Dr. Emily Silverman)
A Better Pandemic Playbook (with Dr. Monica Gandhi)
The Peril & Promise of "Second Selfing"
TED Health is another podcast that satisfies my natural curiosity. The episodes are of varying lengths — from as short as five minutes to the occasional 40-minute episode; Dr. Shoshana Ungerleider invites "innovative speakers on health and science" to join her for 20 minutes as they share their expertise.
If you've ever watched a TED Talk video, you'll be familiar with the talking style of the podcast. After each talk, Dr. Ungerleider spends a few minutes digging deeper into the subject and giving her insight and thoughts.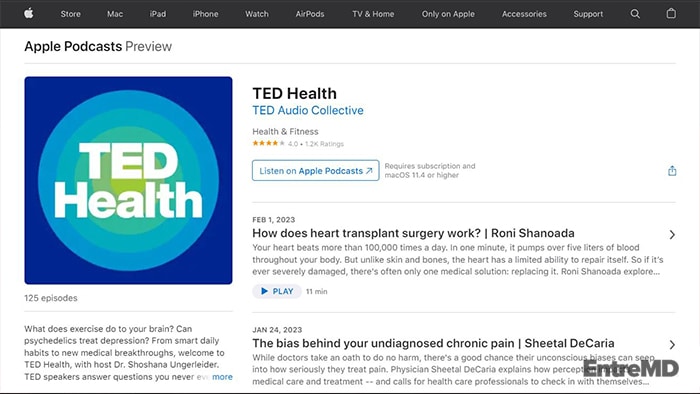 As a woman, I appreciate her compassion for the human condition and her courage to make a difference. An anecdotal story is about Dr. Ungerleider, who treated a 72-year-old patient with end-stage lung cancer. 
She asked him what he wanted, and his response was, "Since being diagnosed with cancer, no one has asked me what I really want. Can I please go home? All I want is to be at home."
This simple conversation has since informed her work and her passion to "redesign the healthcare system to ask all patients: What are your goals and values of how you want to live your life? Then, tailor all care based on the answers to that question."
A sampling of podcast episode titles:
The Bias Behind Your Undiagnosed Chronic Pain
Why the Price of Insulin is a Danger to Diabetics
Are Women More Likely to Get Alzheimer's?
As a physician who's passionate about helping other physicians embrace entrepreneurship, I enjoy listening to Dr. Bradley B. Block's "practical guide for practicing physicians and other healthcare practitioners looking to improve in any and all aspects of our lives and practices."
Dr. Block interviews physician and non-physician experts on a wide range of topics about ways to help healthcare professionals develop personally and professionally. His podcast focuses on answering the question, "What should we have been learning while we were memorizing Kreb's cycle?"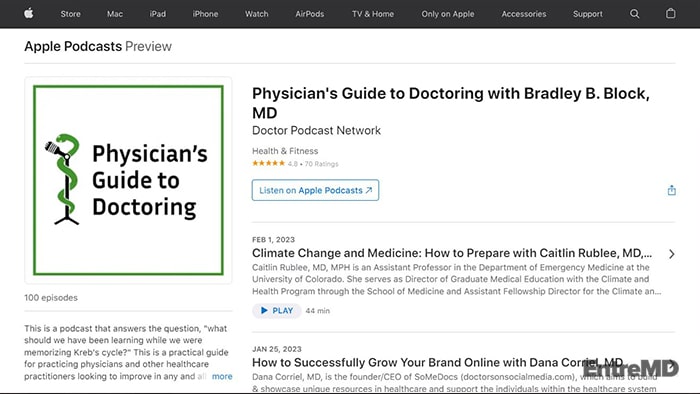 The podcasts range from 30 to 50 minutes, and I find them great to listen to as I'm driving from Point A to Point B. I note the time stamp when I hear something that particularly applies to my life or work so I can follow up once I get to my office or home.
A sampling of podcast episode titles:
How to Successfully Grow Your Brand Online with Dana Corriel, MD
Disrupt Outpatient Healthcare with Direct Primary Care with Dr. Maryal Concepcion
Freakonomics of Healthcare with Bapu Jena, MD, PhD
This paid subscription podcast is created to help you stay current with "excellent, high-yield primary care topics." It takes the "best and most entertaining educators around, put[s] them into a relaxed environment, and let[s] them shine and laugh.
They're not kidding. Over 20 experts cover topics from emergency and primary care to pediatrics, urgent care, and much in between.
They recently joined with a "large national provider of online education and now operate as part of Colorado Technical University. This allows them to constantly upgrade and adapt their education-based offerings to advances in diagnosis and treatment updates.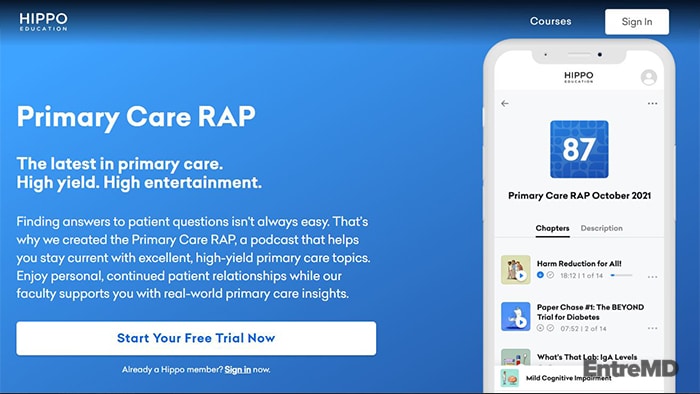 Again, I appreciate the short, concise episodes and the entertaining and engaging conversations. New episodes are released monthly, and you can try before you buy with a 7-day free trial.
A sampling of podcast episode titles:
Deadly Drug Combinations
Abnormal Pap Smears
Efficiency and Time Management in Clinic
This guy's been around for a while. In 2004, Dr. Kevin Pho founded KevinMD, a web-based platform where "physicians, advanced practitioners, nurses, medical students, and patients share their insight and tell their stories."
I don't know how he finds the time, but he's a practicing, board-certified internal medicine physician, a national media commentator, and co-author of the book, Establishing, Managing, and Protecting Your Online Reputation: A Social Media Guide for Physicians and Medical Practices, and an acclaimed keynote speaker. Oh, and he offers physician coaching, edits KevinMD.com, "conceives and executes digital strategy, and directs technology infrastructure."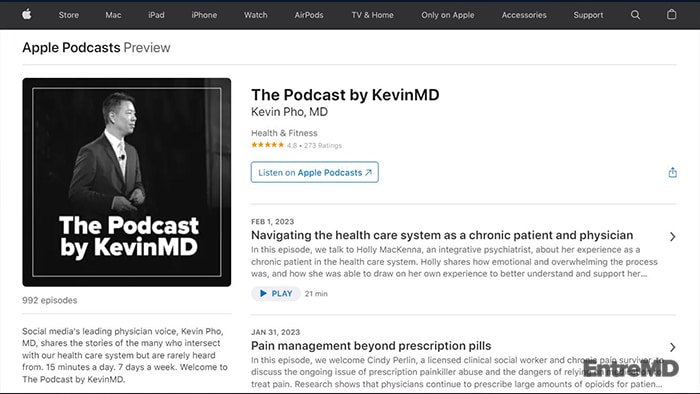 His podcast focuses on stories from those who know what they're talking about. Over 1,000 healthcare professionals contribute articles to his website and join him on his podcast.
A sampling of podcast episode titles:
Navigating the Emotional Impact of a Medical Malpractice Lawsuit
Discover the Reality of Living with Hidradenitis Suppurativa
Physicians' Real Problem Isn't Burnout
Perhaps I'm showing my bias, but here's another podcast about "…ways to embrace life AND a medical career." Dr. Jen Barna, a board-certified, practicing radiologist, and Dr. (and coach) Gabriella Dennery, plus certified coach Jill Farmer, invite guests to share their experiences on "business, leadership, building financial independence, and other pertinent topics to physicians." 
I like the blend of hearing from traditional physicians and "some who've chosen a path less traveled." The message from DocWorking revolves around the importance of physicians' well-being and the "importance of normalizing the delivery of support that works."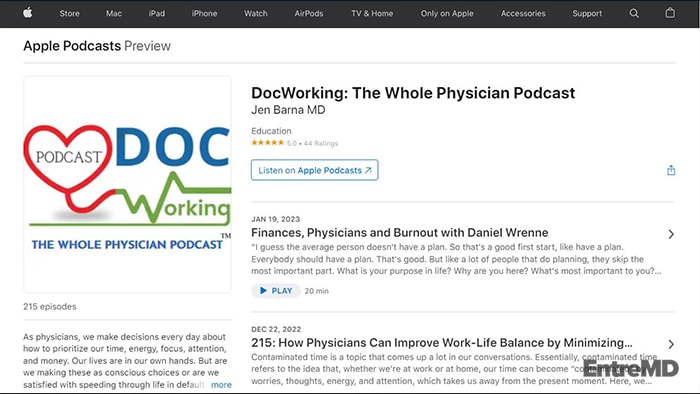 A sampling of podcast episode titles:
Being a Unicorn in Physician Leadership with Dr. Camelia Lawrence
Passive Income and Real Estate Syndication as a Path to Financial Independence with Dr. Cherry Chen
How Physicians Can Design Success on Their Own Terms with Dr. Dawn Baker
Dr. Nii Darko's podcast isn't just about the ins and outs of medicine. It's a "fusion of medicine, money, and pop culture." It's a whole-life take on wellness for doctors and physicians by "cutting edge and innovative doctors, professionals, influencers, and entrepreneurs who are earning, saving, and investing their way to lifestyles they've always wanted."
Topics that are close to my heart. I sometimes feel like Dr. Darko is my brother from another mother.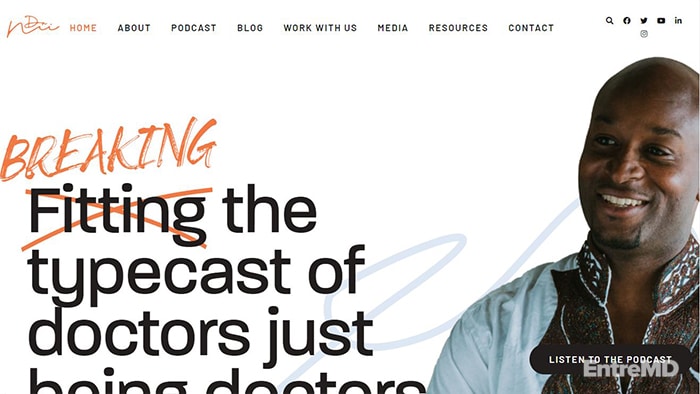 He's a board-certified general/trauma surgeon who's created a great long-form (between 30 minutes and 75 minutes) podcast experience that's well worth a listen. Guests on the show are not only sharing inspiring stories but there are also lots of "actionable advice and tangible tips" in almost every episode.
A sampling of podcast episode titles:
From Burnout to a Profitable Newborn Concierge Practice
Artificial Intelligence Passes USMLE Steps 1, 2 and 3
Why Don't Med Schools Teach About Money?
It may come as no surprise that I'm including my own podcast on this list of the best podcasts for doctors and physicians in 2023. I have a goal of "retiring" at 40 — seeing patients because I want to, not because I have to. And out of that personal goal came EntreMD, my passion project, where I help other doctors who would love to fulfill the same goal or a similar one!
I used to think that other doctors were experiencing success because they were better than me. And then I realized they're not better than me; they just know something I don't know.
So I made it my business to find out what I didn't know, and now I'm helping all the Dr. Una's out there who are afraid of reaching for their goals because they think they're not good at business.
Fast forward through some ups and downs, and in 2018, I launched the EntreMD Business School. It's been my great delight to have worked with doctors and physicians as they work towards accomplishing their goals, and some of my favorite podcasts are ones where I get to talk with them and hear how the business school helped them get to where they currently are.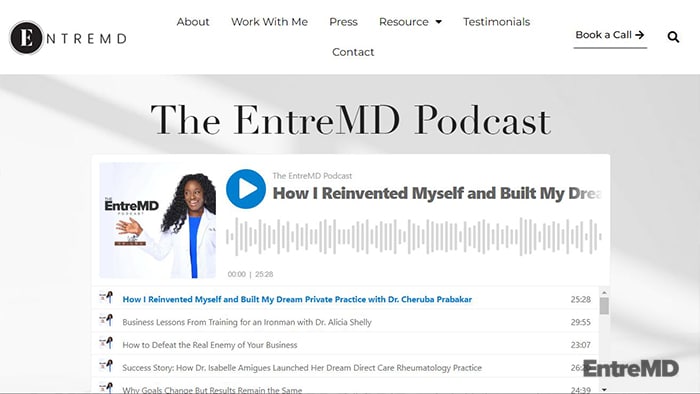 Some of these interview-style podcasts are:
How I Reinvented Myself and Built My Dream Private Practice with Dr. Cheruba Prabakar
How I Built a Panel of 4000 Patients in 18 Months with Dr. Tolu Olabintan
How This Doctor Went from Afraid to Professional Public Speaker with Dr. Tamara Beckford
If this sounds like something that could help you, I'm listing all the ways you can reach out to me, listen to me, and join me as you build a life on your terms.
Listen to the Podcast Here:
The EntreMD Podcast on Apple Podcasts
The EntreMD Podcast on Google Podcasts
The EntreMD Podcast on Spotify
Join the EntreMD Private Facebook Group: EntreMD Private Group on Facebook
Join a group of physicians who have decided to build profitable businesses so they have the freedom to live life and practice medicine on their terms.
Follow Me Here:
Facebook – Dr. Una
Instagram – Dr. Una | Business Coach for Physicians
YouTube – Dr. Unachukwu
TikTok – Dr. Una
LinkedIn – Nneka Unachukwu, M.D
Work With Me: