Cruise ships have long been a popular form of vacation and relaxation for those who love the open sea and visiting exotic ports of call. In recent years, this multi-billion dollar industry has grown significantly, with more and more people taking advantage of these leisurely oceanic journeys.
In 2019, there were an estimated 24 million cruise passengers on the world's seas and oceans. The industry is expected to continue growing as more travelers take to the seas for their holidays.
This growth in popularity has also had an effect on the hiring practices of cruise lines. Many are now looking for more medical personnel to provide medical care and support to their passengers. This includes doctors, nurses, medical technicians, and other health professionals.
How Has the COVID-19 Pandemic Hit the Cruise Ship Industry?
Prior to the pandemic, the cruise ship industry was booming, with an estimated 30 million passengers worldwide taking cruises each year. The sector employed some 1.2 million workers and generated revenues of around $150 billion annually.
However, the spread of COVID-19 and the subsequent lockdown of many countries have hugely impacted the industry. In April 2020, nearly all global cruise ships were forced to suspend their operations due to port closures, quarantine restrictions, and travel bans imposed by governments. 
This led to a massive reduction in revenue and employment, with an estimated 600,000 people losing their jobs and $50 billion in losses for the cruise line operators.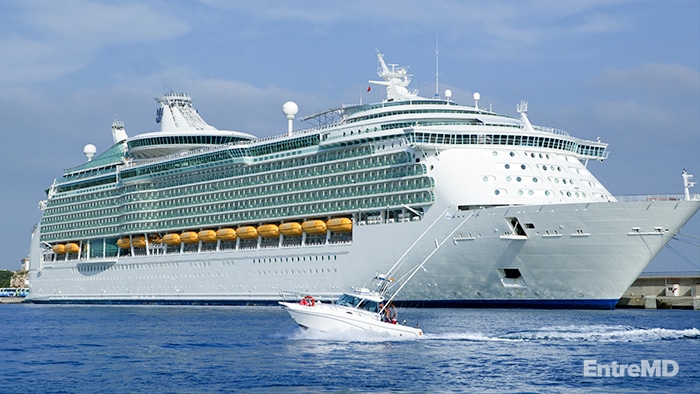 But a newly released report from Cruise Lines International (CLIN) paints an optimistic picture of its recovery heading into 2023. The past year was determined to be a "pivotal transition year" for the industry, with "full recovery projected in 2023."
They expect nearly all of their cruise ships to be operating fully by this summer, and, at this time, approximately 60% of cruise-related businesses and organizations are hiring, which is great news for doctors looking for a career change.
They Do Hire Doctors
As the cruise ship industry continues to expand, the need for qualified medical staff is growing. Cruise ships need doctors on board to take care of the needs of their passengers and crew.
Cruise ships with more than 100 passengers onboard are required to have medical staff onboard. These staff members need to meet the guidelines set out by the American College of Emergency Physicians (ACEP).
Doctors must be certified by the U.S. Coast Guard to practice medicine onboard, and they must have experience in emergency medicine, general medicine, and other specialties. The qualifications to become a doctor on a cruise ship vary by company but generally include a degree in medicine and a valid state license.
The duties of a doctor on a cruise ship include performing checkups and treating illnesses, injuries, and medical emergencies as they arise. In addition, they may also provide general medical advice and preventive health care measures. A cruise ship doctor may also oversee other medical staff, such as nurses, EMTs, and paramedics.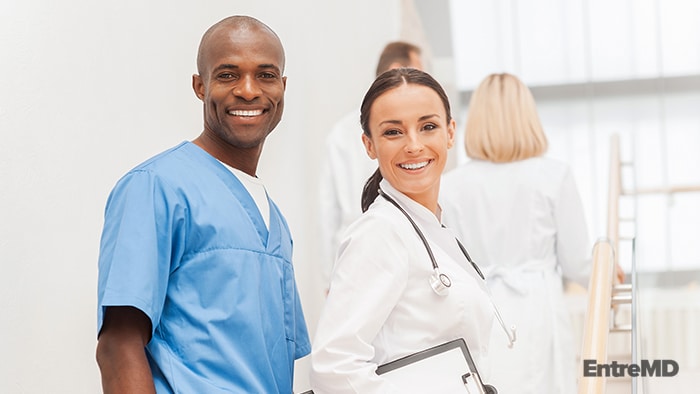 Cruise ship doctors are classified as emergency physicians. They are trained in emergency care but also need to be qualified in family and internal medicine.
The types of doctors typically employed onboard cruise ships are general practitioners, obstetricians/gynecologists, pediatricians, dermatologists, and dentists. Additionally, some cruise lines may also hire psychologists and psychiatrists.
Medical care must be available 24/7; typically, a cruise ship will have two doctors onboard — a senior doctor and a junior doctor or nurse. The larger the ship, the more medical staff is required.
Senior doctors on a cruise ship are considered "officers," meaning they will need to attend any galas and other officer-related events unless they care for a patient who needs their help.
Life as a Cruise Ship Doctor
A doctor's work schedule on a cruise ship typically consists of a minimum of three months at sea followed by two weeks of vacation back home. During their time at sea, doctors typically work eight-hour days, with additional hours expected during peak times, such as when the vessel is docked or in port.
However, like any job, there are some drawbacks. One of these is the long hours.
Doctors on cruise ships may work 12-14 hour days and be on-call 7 days a week, with no days off during the entire duration of their contracts. This means that there is little time for leisure activities or even rest, as doctors must remain available in case of an emergency or sudden illness.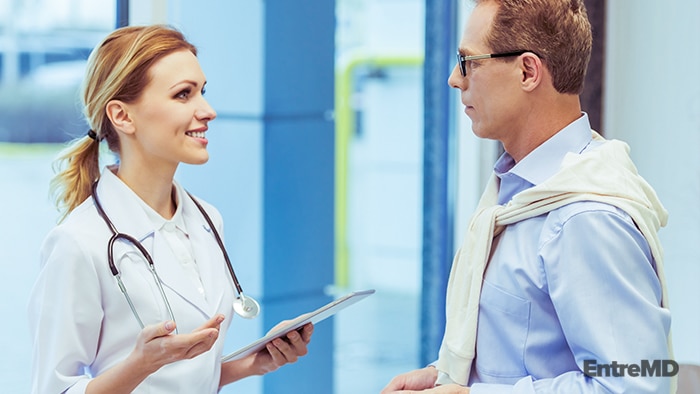 As a doctor on a cruise ship, your responsibilities will include:
Providing medical care to passengers and crew members
Performing routine medical checks on passengers and crew before they embark on the vessel
Monitoring passengers and crew for signs of illness or injury
Prescribing medications and treatments as needed
Maintaining accurate medical records
Reporting any illnesses or injuries to the captain and medical staff onboard
A typical day for a doctor onboard a cruise ship begins with a quick check-in at the medical center. This is followed by rounds on the deck to assess any new cases that may have come up overnight.
After this, the doctor will conduct physical exams and tests on any patients who require it. Throughout the day, the doctor will also keep track of any ongoing illnesses or injuries and provide counsel and advice to passengers or crew who may need it.
In addition to this, the doctor may also have to participate in meetings with other medical staff and give lectures or seminars on health-related topics. At the end of the day, the doctor will close out their shift and prepare for the next day's duties.
Despite the long hours, the pay is generally good and allows doctors to save money and plan ahead financially.
Salaries, Benefits, and Perks
Doctors who choose to work on a cruise ship can expect a generous salary and many great benefits. Cruise ships usually offer free accommodation, meals, and other amenities such as onboard entertainment, gyms, spas, and more. More significantly, cruise ship doctors also benefit from free healthcare insurance and travel to and from home to where the ship is docked.
According to Cruise Mummy, senior doctors on a cruise ship can earn between $10,000-$15,000 each month, while junior doctors can expect to make between $7,500-$10,000 each month. Look for Zebras' findings are slightly higher, with senior doctors earning between $12,000-$14,000 each month and junior doctors earning between $9,000-$12,000 each month.
Contracts usually last around four months, with two contracts "permitted" each year. In total, doctors on cruise ships work a maximum of eight months and have four months of vacation time over the course of the same year.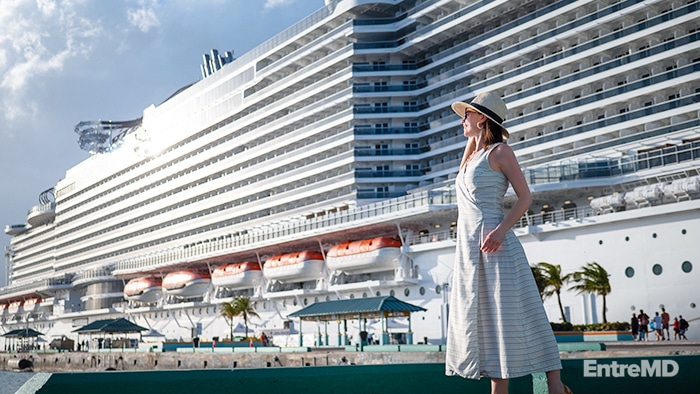 Non-tangible benefits of working as a cruise ship doctor include exploring the ports and taking shore excursions during downtime. As well a cruise ship doctor also gets to meet and interact with people from around the world, which can be a great learning experience.
Best Cruise Ship Lines to Work For
Very few, if any, cruise ships are single companies. Most are part of a larger parent or umbrella company that has multiple cruise lines within its stable of cruise ships.
Ranked by passengers and revenue market share, the five giant cruise companies with their annual U.S. dollar revenue are:
$8,833.19 Carnival Corporation & plc
$5,054.21 Royal Caribbean Cruises Ltd.
$2,996.28 Norwegian Cruise Line Holdings Ltd.
$1,539.65 Mediterranean Shipping Company
$1,318.47 TUI Group (50%) and Royal Caribbean Group (50%)
That's good news for doctors wanting to work on a cruise ship. Rather than apply to work on a single ship — the acceptance of your application will allow you to work on any of the parent company's ships.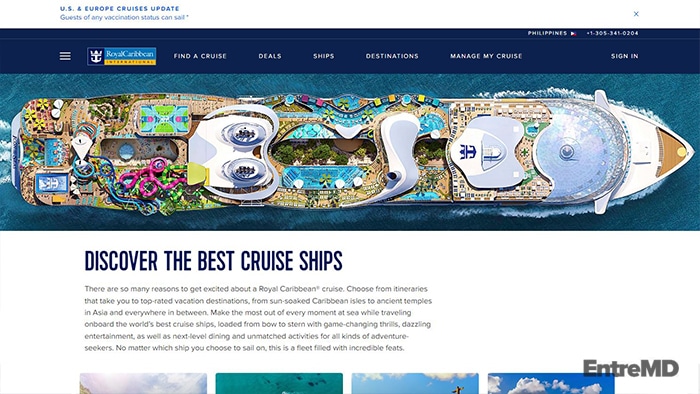 While varying sources differ on which cruise line is the best to work for, Royal Caribbean International comes out on top of several lists. It's owned by Royal Caribbean Group, which also owns five other cruise lines.
The Royal Caribbean International fleet currently has 27 ships and sails to six of the seven continents.
Although they don't have any medical job openings currently, you can create an account by clicking on the "Register" link, and you'll receive updates as "new opportunities become available."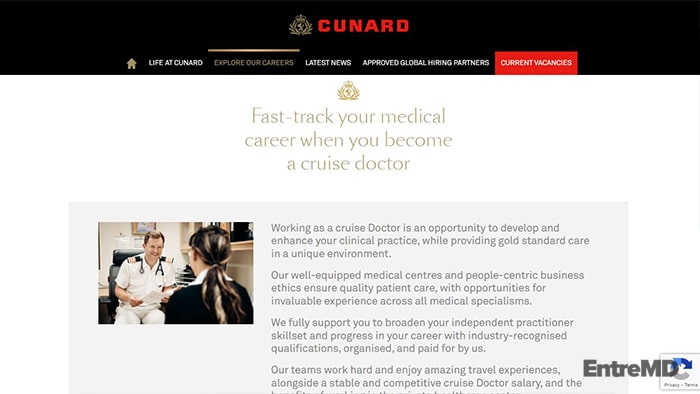 Cunard Line is one of the oldest cruise lines, founded in 1839, and is currently part of Carnival Corporation. They have a small fleet of three ships (a fourth ship is currently under construction) and are famous for transatlantic crossings.
Doctors working on this cruise line are offered a permanent contract with 12 weeks on/6 weeks off rotation pattern. They are unique in the cruise line world as they operate as a GMC-designated body, which lets you revalidate your medical license and maintain your registration.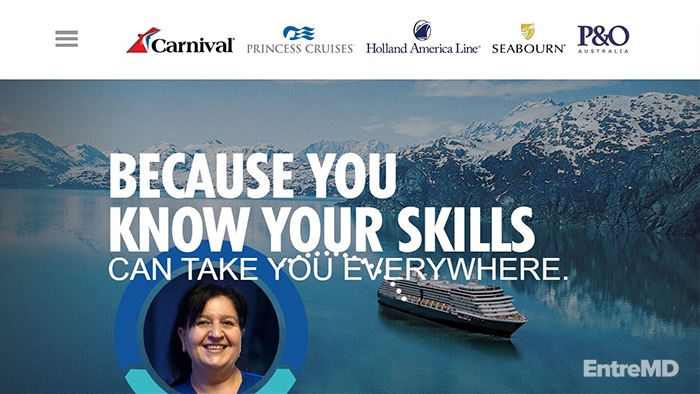 Carnival Corporation offers this insight into what it takes to be a successful doctor on a cruise line:
Adaptability
Clinical skill
Customer service
Team dynamics
Communication
Multi-tasking
If you want to work for the largest privately-held cruise company, you'll want to check out Mediterranean Shipping Company (MSC Cruises). With a fleet of 19 ships and over 23,000 employees, MSC Cruises works hard to bring diversity to its staff hiring.
Contracts are slightly longer, ranging between five and seven months, with a two-month break between contracts. They offer an online self-assessment test to see if an onboard life is right for you.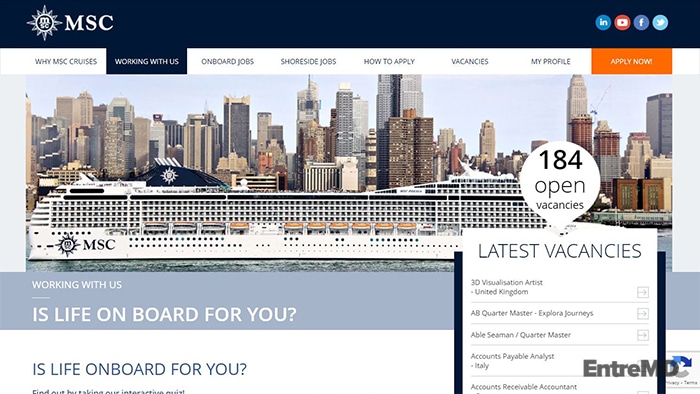 Disney Cruise Line was bought by Carnival Corporation in 1991 for $372 million. This is the fourth cruise line bought by Carnival (the others are Holland America Lines and Windstar Sale Cruises).
Disney has five ships in its line: Disney Magic, Disney Wonder, Disney Dream, Disney Fantasy, and Disney Wish. They value customer service and encourage staff in their career development and advancement.
Go here to see what medical jobs they currently offer on any of their ships.
While most cruise ships are aimed at rest and relaxation, AIDA Cruises stands apart by targeting younger, more active vacationers. The cruise line launched in Germany in the early 1960s and, since 2003, has been owned and operated by Carnival Corporation.
Fourteen ships sail under the AIDA Cruises name, and the line is consistently named one of Germany's best employers, most recently recognized by the Top Employers Institute in 2022.
They currently have an opening for an onboard doctor, or you can submit an unsolicited application if you "didn't find a job opening [on their site] that suits you."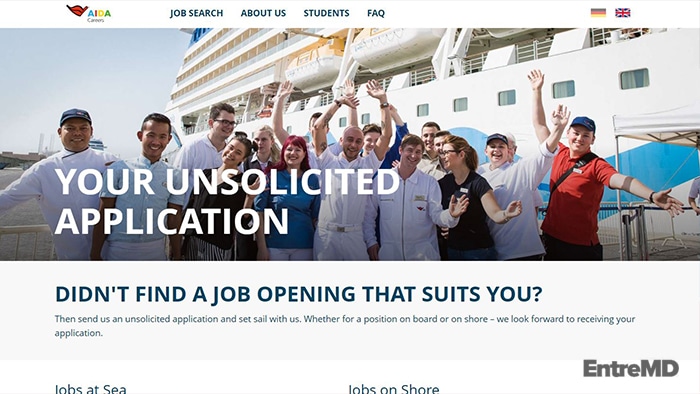 Carnival Cruise Ships allows you to directly apply to work as a shipboard doctor for any of their cruise lines if you fulfill the following requirements:
Hold a medical degree, current registration, and licensing with an "appropriate or national regulatory body."
Have at least three years of post-graduate clinical experience in emergency medicine, acute care, or ICU.
Most recently had clinical work experience.
Valid accredited ALS/ACLS certificate.
PALS certification before completing the first year of employment.
Some highly recommended requirements are:
Experience and certification in point-of-care ultrasound.
Experience with the use of EHRs
Advanced training in:

Advanced airway management
ICU
Primary emergency care
Immediate medical care
ECG
Advanced trauma life support
Experience working in private healthcare settings.
The Bottom Line
Emergency medicine physician salaries in the U.S. currently average $347,500, with a range of between $293,200 and $392,100. Taking the average emergency physician's salary and the average cruise ship doctor's salary, you can see a wage discrepancy of just over $200,000 per year.
Before you dismiss a career as a cruise ship doctor because of this potential gap in earnings, you should crunch the numbers a little further. When you consider that your living expenses will be minimal while working for a cruise ship, the earnings gap may look a little different.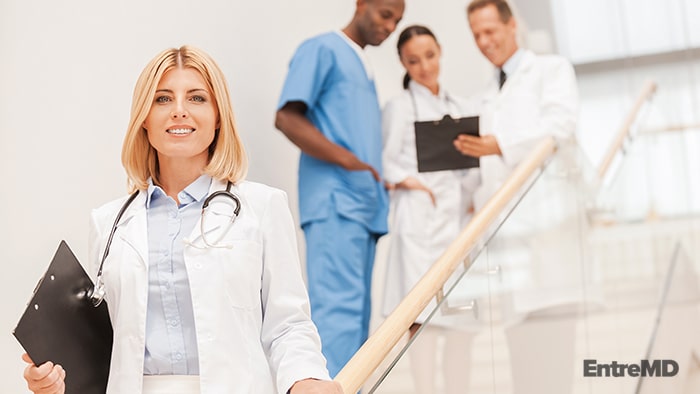 The most accurate way to compare salaries is to identify how much you spend on living expenses throughout the year. When you deduct your mortgage or rent payments, house upkeep, food, personal spending, necessary travel expenses, etc., from either job's salary, you will be in a better position to consider which career will be more profitable.
If you do own your own home and want to work as a cruise ship doctor, consider renting out your house (and car) for the times you are away to cover your mortgage payments.
Overall, life as a doctor on a cruise ship can be both demanding and rewarding. Doctors get to travel to different countries while providing quality medical care, get to work in an environment with plenty of amenities and benefits, and are compensated generously for their hard work.