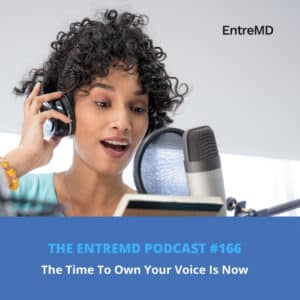 Owning your voice will change the way you show up in your life and your business. 
When you let self-judgment overwhelm you, you hesitate to share your ideas with the world and you might lose the chance to put yourself out there. 
That is exactly what happened to me three years ago. In 2018, after writing a book and getting it completed, do you know what I did?
Nothing!
In this week's EntreMD Podcast, I share this experience in detail. I also share the three consequences of my decision to not own my voice.
So tune in on this week's episode to know how you can own your voice and boldly put yourself out there. 
If you need help either discovering your zone of genius or figuring out how to present it to the world, you need to join the EntreMD Business School. Enrollment is closed for now but you can join the waitlist for the grand reopening and in the meantime, listen and apply what I'm sharing on the podcast. 
If you loved this episode of The EntreMD Podcast, I invite you to join my signature subscription program EntreMD On Demand, giving you access to a library of business courses designed to help you thrive as a physician entrepreneur! 
What You'll Learn from this Episode:
Why you shouldn't let your fear overwhelm you
How can you silence your inner critic and own your own voice
How owning your voice and putting your work out there will help your clients and your business
Listen to the Episode Here:
Featured on the Show:
If you're ready to build a business that lets you live life and practice medicine on your own terms, check out the EntreMD Business School!