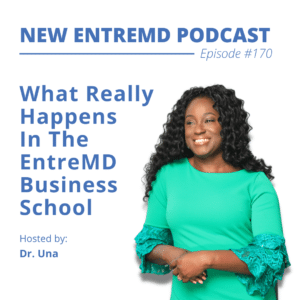 In this EntreMD podcast episode, Dr. Una gives you a rundown of the EntreMD Business School and what really happens on the inside. This episode is for anyone who is thinking of enrolling in a business school. This is the episode that will answer most of your questions and help you make an informed decision to join the school. 
Dr. Una will be showing you six opportunities that are created for you on a weekly and monthly basis to create momentum and win in your business. You will see that this is the best place for you to be as a physician entrepreneur. Whether you only have an idea or you have a successful business, you find yourself in these stories. 
She takes you behind the scenes to talk about:
Weekly live sessions 

Access to the vault 

Monthly challenges 

Private FB community 

Special in-person events

Special projects 
If you need help either discovering your zone of genius or figuring out how to present it to the world, you need to join the EntreMD Business School. Enrollment is open now so come and join us! 
If you loved this episode of The EntreMD Podcast, I invite you to join my signature subscription program EntreMD On Demand, giving you access to a library of business courses designed to help you thrive as a physician entrepreneur!
What You'll Learn from this Episode:
What happens inside EntreMD Business School
The benefit of joining the EntreMD Business School
Listen to the Full Episode:
Featured on the Show:
If you're ready to build a business that lets you live life and practice medicine on your own terms, check out the EntreMD Business School!