This is a special podcast episode hosted by Dr. Tamara Beckford. She interviews Dr. Rashmi Schramm who shares her experience in the EntreMD Business School.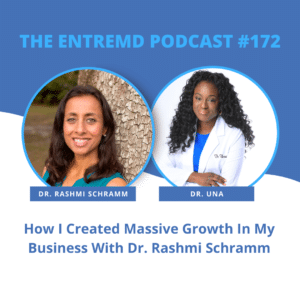 Dr. Rashmi shares how she experienced exponential growth personally and professionally once she decided to join the Business School. She got the courage to make her business big and understood the value she brings to her clients and community. As a result, she is impacting people who are earning so much more.
Listen to this week's podcast as she also shares that many opportunities opened up to her after joining the Business School and deciding to put herself out there. She had opportunities to be featured by thought leaders in her space, invites for paid speaking engagements and clients reaching out to work with her. 
She also has a message for her fellow physician-entrepreneurs who are still thinking about joining the EntreMD Business School. 
If you need help either discovering your zone of genius or figuring out how to present it to the world, you need to join the EntreMD Business School. Enrollment is now open, so what are you waiting for? Join now! 
If you loved this episode of The EntreMD Podcast, I invite you to join my signature subscription program EntreMD On Demand, giving you access to a library of business courses designed to help you thrive as a physician entrepreneur!
Listen to the Full Episode:
Featured on the Show:
If you're ready to build a business that lets you live life and practice medicine on your own terms, check out the EntreMD Business School!