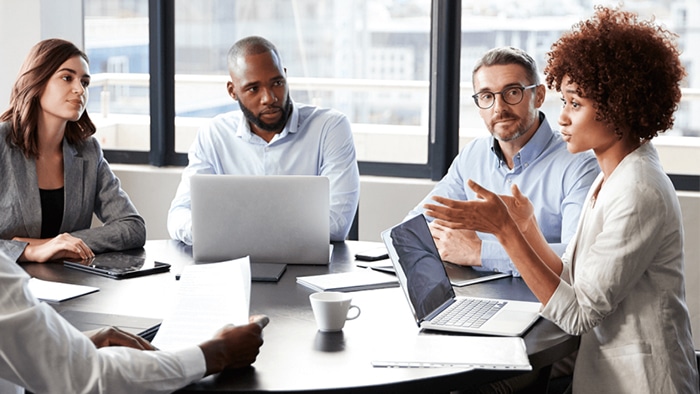 A Master of Business Administration (MBA) takes time, tenacity, and total commitment. While it will open doors to career advancement and garner you a bigger paycheck, there are some obvious questions you'll want to have answered before you go down that road.
Questions like:
Do you need an MBA to go into business?
How much time will it take to get an MBA?
How much will it cost?
Is an MBA better than a Master's Degree?
What can you get an MBA in?
Is it worth the time, commitment, and financial investment?
Some of these questions have relatively simple answers.
Do You Need An MBA To Go Into Business?
The answer to this depends on the type of business you are considering and the role you hope to occupy in that business.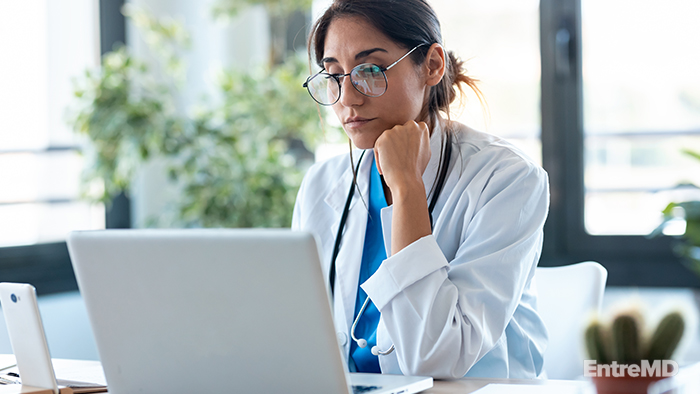 This important question doesn't have a simple answer, but I think the answer for you might become more evident as you read along the rest of this post.
How Much Time Will It Take To Get An MBA?
A traditional MBA program is completed in two full-time years with classes on campus. An accelerated MBA can be completed online or in-person and typically takes between 11-16 months to complete on a full-time basis.
Another way to calculate the length of time it takes to achieve an MBA degree is to understand that many graduate schools require 36 credits. Most courses are worth three credits, so you'll need to take 12 courses in total.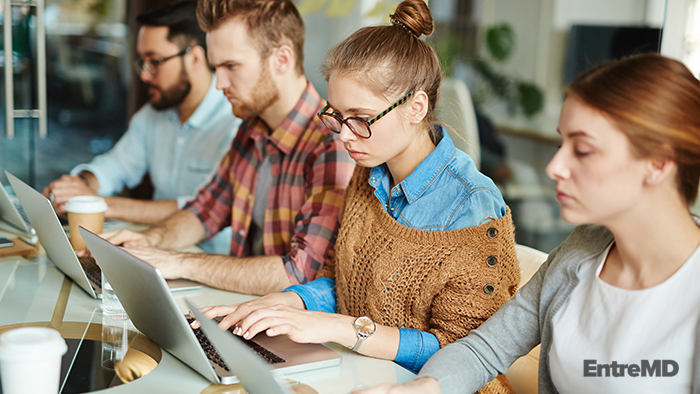 Franklin University helpfully and thoroughly breaks down the length of time it will take to earn an MBA, and they calculate that, in real-time, you can expect this degree to require 1,600 hours of work.
How Much Will An MBA Cost?
According to Studyportals, it depends on which country you get your degree from. The lowest degree program scale was from The Netherlands, starting at $18,000. Singapore degree programs start at $62,000. France, Austria, and Germany offer MBA degrees for international students at around $20,000.
American MBAs can cost anywhere from $50,000 to $60,000. Getting your degree from Stanford University, one of the top-ranked universities in North America, can cost $90,000.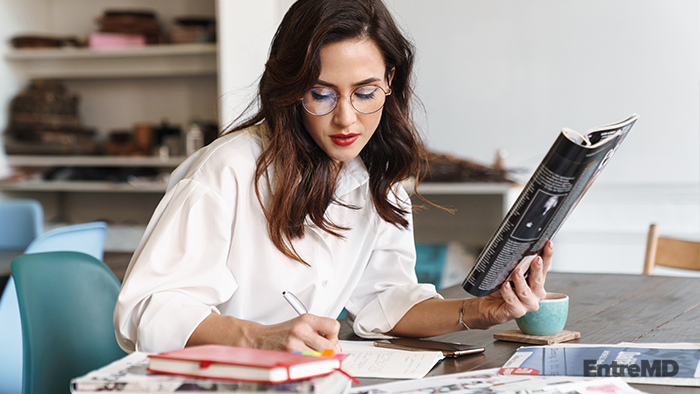 This fee excludes living expenses and other miscellaneous expenses such as textbooks. Adding in those costs can up the total two-year cost to just under $200,000.
Is An MBA Better Than A Master's Degree?
The answer ultimately comes down to where students position themselves now and where they see their career path going in the future.
An MBA is a general graduate business degree that teaches multiple business disciplines and offers a broader view of business management. They often require at least two years of full-time professional experience.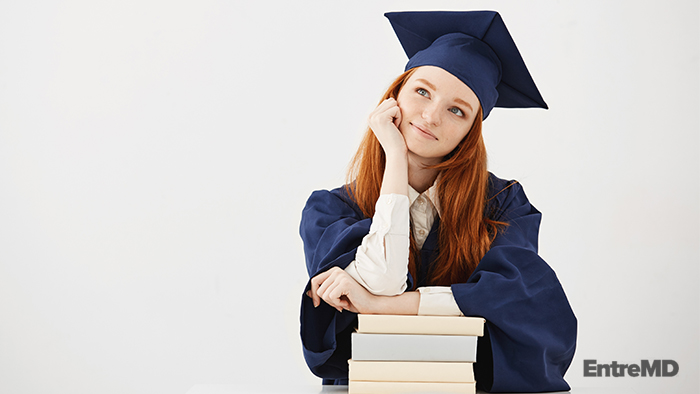 A master's degree is an advanced graduate degree that shows a high level of mastery in a particular subject area. Master's programs are targeted at those at the beginning of their career.
While an MBA is suited to students from any academic or professional background who want greater career flexibility, management roles, or business ownership, master's programs are better for students who want highly specialized knowledge in a specific area.
What Disciplines Can You Get An MBA In?
Today's MBA specializations allow physicians to customize their education to learn about more than just business administration. Doctors are now pairing their medical training with expert understandings of finance, management, data analysis, and public policy.
Here are some of the best MBA programs for physicians:
An MBA in Finance can help physician leaders to run their own practices and clinics better or take charge of larger healthcare organizations. Already one of the most popular MBA specializations across all professions, the finance MBA provides strong fundamental knowledge of risk management, financial management, and capital budgeting.
An MBA in General Management is a natural fit for any physician who wants to manage their own practice and get the most out of their staff. It's also a useful tool for physicians who aspire to areas of higher leadership, where the main problems are business-based rather than medically-based. A general management MBA can teach physicians to think strategically and relationally.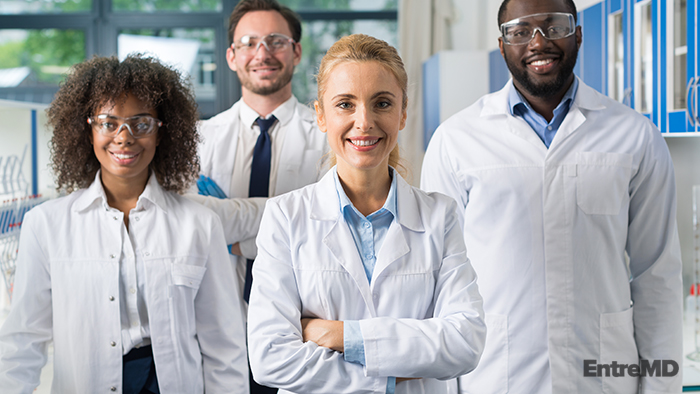 An MBA in Healthcare Informatics can bring physicians up to speed on the language of healthcare data. These programs cover data analytics, healthcare technology, and I.T. policy. As the future of healthcare becomes more intertwined with big data, tomorrow's physicians will need to be fluent in healthcare informatics.
An MBA in Healthcare Management could be the most natural fit for physicians. These programs teach graduates how to handle complex strategic decisions within an organizational structure while also taking into account the unique characteristics of the healthcare sector. Physicians with an MBA in healthcare management can go on to lead at the highest levels of the industry.
An MBA in Public Administration can give physicians a louder voice within healthcare policy. It can also boost their understanding of the incredibly complex and nuanced regulatory landscape that healthcare organizations and their employees face. An MBA in public administration prepares its graduates to interface with government entities, but it also provides a strong background for those working in highly regulated sectors, such as healthcare.
Is It Worth The Time, Commitment, And Financial Investment?
According to research conducted by the GMAC (Graduate Management Admission Council), it takes less than four years to recoup the investment made in an MBA graduate program.
The study concluded that:
Three out of four graduates felt their degree provided faster career advancement.
Four out of five graduates revealed their degree increased their earning power.
MBA graduates earn a median cumulative base salary of $2.5million (U.S.) over 20 years after graduation.
How do you measure what return on investment you can expect?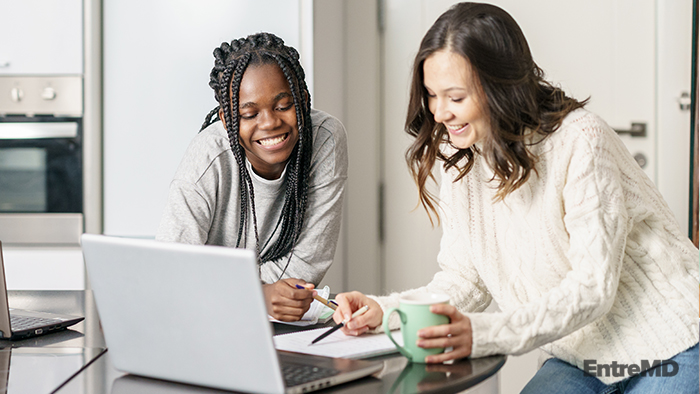 A quick formula is to take the actual costs of your MBA:
Tuition + Fees + Miscellaneous costs.
Then subtract any:
Scholarships + Grants + Tuition credits
And divide the total by the amount you expect to increase your salary.
For example, after calculating any financial grants or scholarships you may qualify for, your degree will cost you $40,000. If you expect to see a $56,000 increase per year, it will take you one year to see a positive return on your degree costs.
All MBAs lead to high salaries, but some industries pay better than others. According to the U.S. News, healthcare is among the top five industries where MBA graduates earn the most. The financial cost of an MBA can pay for itself and do it quickly.
What Can You Get From An MBA?
MBAs focus on five core learning objectives:
1. Communication and interpersonal skills
Interpersonal communication in healthcare can be defined as "the ability of the provider to elicit and understand patient concerns, explain healthcare issues, and engage in shared decision-making if desired." It's more than just what you say — even though that's a big part of the puzzle. It's also how you say it and what you mean by it.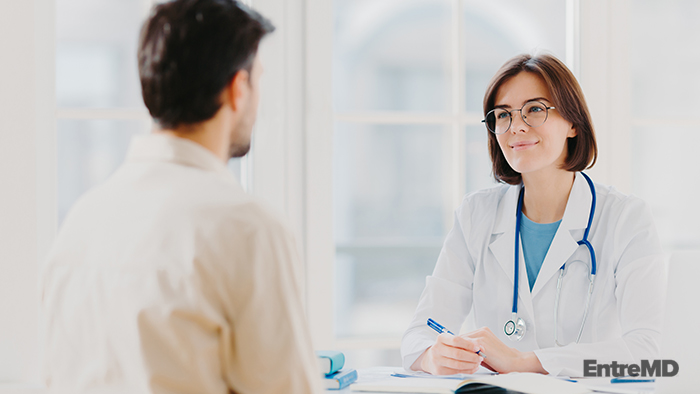 Numerous studies have linked interpersonal communication in healthcare to improved patient outcomes, including:
Higher patient satisfaction
Improved adherence to treatments
Reduction in psychological effects (depression/anxiety)
Increased patient confidence or self-efficacy
Symptom reduction
Improved quality of life
Increased survival rates
These outcomes — which range from short-term to long-term — are extremely significant. Strong interpersonal communication skills can help save lives and help people live longer.
2. Leadership and teamwork skills
Every organization needs a leader who can inspire the workforce. These individuals bring out the best in people and, in turn, can meet their company's business needs and objectives.
In a study called, 'Lessons for Leaders from the People Who Matter,' statistics show that 98 percent of employees who have good leaders are motivated to do their best.
A good leader starts with a vision and drives their team towards a common goal. They do this by focusing on people's strengths, building an atmosphere of collaboration, encouraging the generation of ideas, and improving their team's abilities with workplace training.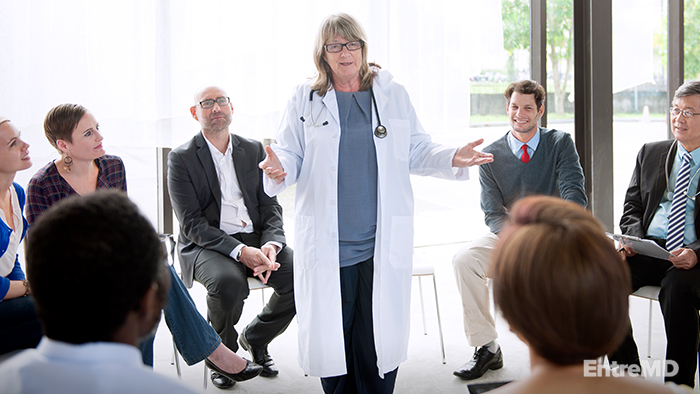 Retired U.S. general Colin Powell summed up the attributes of great leaders as individuals who:
"…are almost always great simplifiers, who can cut through argument, debate, and doubt to offer a solution everybody can understand."
Leadership skills also go hand-in-hand with teamwork. Editor-in-chief of AOL Jobs, Laurie Petersen, wrote that we should think of teamwork as an orchestra:
"…one sour player can ruin it all by demanding too much attention or trying to play a completely different song."
Using this analogy, it's helpful to think of a leader as the conductor of the orchestra. It's up to them to bring everything to a crescendo.
Not every business leader has an MBA, but having MBA skills will help you deftly ride the ups and downs of the ever-changing, mammoth business juggernaut.
An MBA is designed to nurture your ability to:
Inspire people
Make tough decisions
Listen to alternative points of view
Establish your values as a leader
3. Analysis, research, and risk management skills
No business runs without problems. It's a bit like death and taxes being two of life's certainties — in business, you're likely to experience a glitch sooner or later.
But having the ability to foresee or anticipate any potential challenges and take active steps to problem-solve as they arise can minimize risk and alleviate unnecessary headaches.
While some leaders can be tempted to listen to their gut instinct to help make future projections, it turns out that organizations value analytical skills. This is the ability to review, scrutinize and evaluate data and other sources of information to make decisions.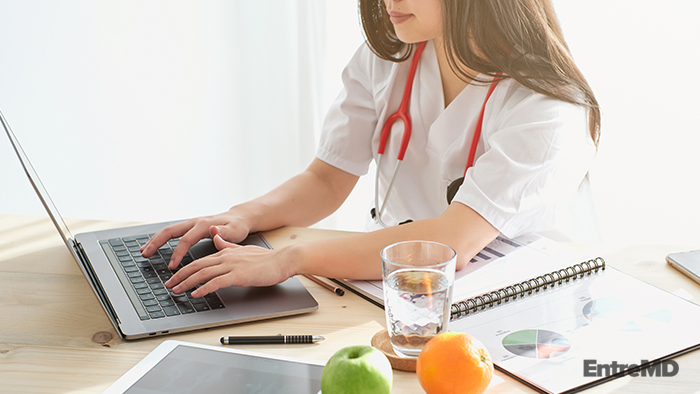 Making calculated decisions based on available metrics puts business professionals, especially company leaders, in the most strategic position possible. An MBA teaches students to make information-based assessments with the ability to make recommendations based on their analysis.
An MBA sharpens your ability to:
Filter important information from unimportant information
Identify potential pitfalls
Change focus as necessary
Respond to a crisis
4. Critical and strategic thinking skills
The ability to assess economic trends and to be able to identify impending threats and opportunities is an advantage in the business world. Organizational leaders who have developed the talent to crystal-ball-gaze into the future can formulate the best action plans.
This means they can look at the market forces at play and create changes in their company to remain competitive.
Critical thinking skills and the ability to strategize are two key components that help business leaders to draw the correct conclusions successfully. Through evaluating facts and figures, leaders develop and execute business plans. These are MBA and enterprise skills that help deliver value to the workplace.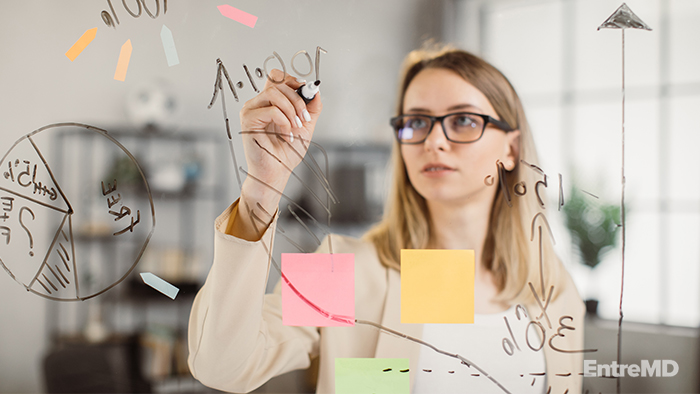 According to recent surveys, critical thinking is "the single most important skill for leaders and managers in all organizations."
An MBA builds your competency in:
Reasoned judgment
Fact-based comparisons
Tackling complex issues
Problem-solving
5. Innovation and entrepreneurial skills
Testing, launching, and scaling new ventures, products or ideas requires both technical know-how and the ability to think creatively. According to the Harvard Business Review, innovative leaders have excellent strategic vision, cultivate a culture that uncorks creative ideas, and prefer experiments to lengthy studies.
Innovative leaders with an entrepreneurial mindset embrace new ways of thinking and are on the hunt for gaps in the market. They create a culture of innovation that focuses on potential rather than cost-cutting.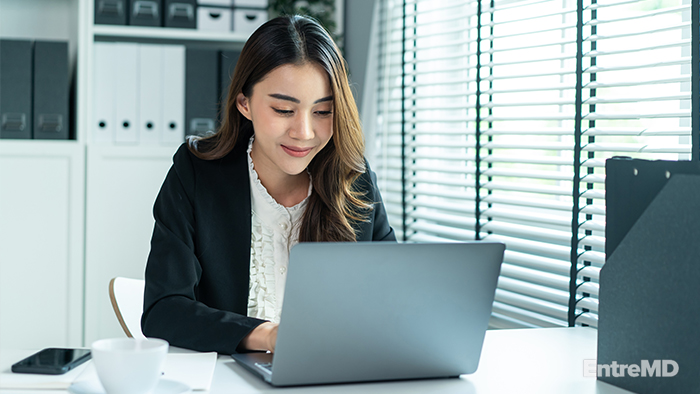 These entrepreneurial skills are invaluable for growth-driven organizations. An MBA enables you to acquire innovation and entrepreneurial skills that prepare you to :
Lead change
Drive productivity and creation
Improve products and services
Other Benefits That Come With An MBA
Earning an MBA often puts you in close contact with other students worldwide who have different work experiences and perspectives on the global healthcare economy. You won't just learn from your professors. You'll also learn from other students in your program.
In a highly-competitive job market, an advanced degree can help set you apart from your peers. Employers typically look to hire or promote a candidate with an MBA because they have skills in management or finance that others within the organization may not have.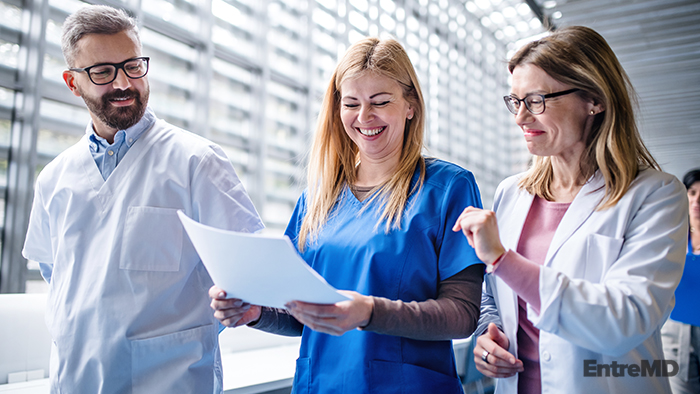 Earning an MBA requires juggling real-life alongside a challenging course load. Getting an MBA can help you learn to manage your time effectively, which is an in-demand skill in life and among employers.
Do You Need An MBA To Go Into Business?
Circling back to this question, with all the wonderful reasons I can give you for getting an MBA, here are some other factors to consider as you make your decision.
There may be other ways to learn the same things. And more. Be open to other ways to build your network and expertise.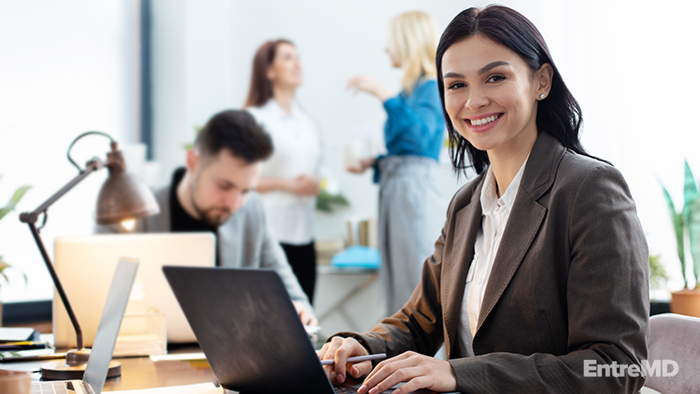 That's why I started the EntreMD Business School. It's designed to make up for the business education you didn't receive during your medical training. Whether you are employed, own practice or non-clinical business, this school will give you the tools to build a business that will help you serve and earn at the highest level.
I'm curious to hear what you think. Do you think an MBA is necessary to go into business as a healthcare professional? At this stage in your career, would that still interest you?
Drop me an email or post a comment below!