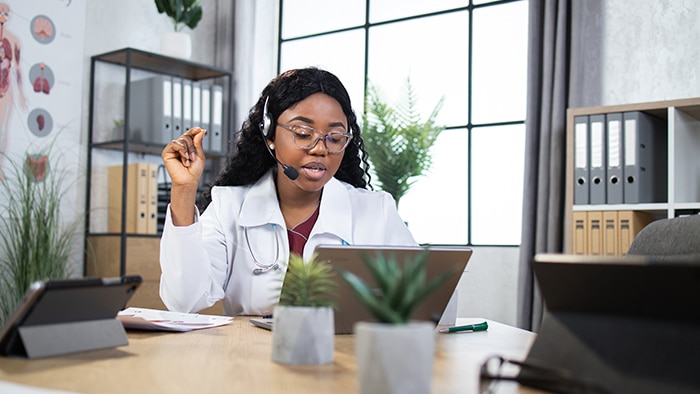 The telehealth field has been exploding in the past few years as doctors and patients have seen how helpful this service can be.

On the patient side, eliminating the need to drive to their doctor's office can save them hours in their busy schedules. They can take their doctor's call anywhere they have a cell signal — waiting in the car to pick up kids, at work, in the middle of switching the laundry over, or preparing dinner.
And for patients who don't want to risk picking up germs when sitting in a waiting room, the benefits of consulting with their doctor by phone or online are immeasurable.
Of course, COVID-19 catapulted how we use telemedicine into the forefront of many of our practices. Even as we begin our slow return back to "normal," the shift to at least a combination of telehealth and in-person visits seems inevitable.
Some questions to consider include: is it worth leaving your current job to pursue a career in telehealth? Does it offer a real long-term career growth trajectory? What's a typical or average salary? Does telemedicine really offer you a chance to improve your career?
Indeed reports this month that the average base salary of a telemedicine physician in the United States is $150,526/year.
Salary estimates are based on 215 salaries submitted anonymously to Indeed by telemedicine physician employees and users and collected from past and present job posts on Indeed in the past 36 months. The typical tenure for a telemedicine physician is less than one year.
Highest Paying Cities for Telemedicine Physicians in the United States
San Francisco, CA

$183,881 per year

New York, NY

$174,470 per year

Washington, DC

$174,365 per year

Boston, MA

$172,022 per year

Los Angeles, CA

$165,148 per year

Philadelphia, PA

$158,946 per year

Atlanta, GA

$158,329 per year

Dallas, TX

$156,926 per year

Houston, TX

$153,813 per year

Bolinas, CA

$121,167 per year

Atkinson, NE

$121,162 per year

San Jose, CA

$114,609 per year

Frankston, TX

$114,033 per year

Jackson, WY

$113,167 per year

Diamond Ridge, AK

$113,167 per year

Seattle, WA

$110,754 per year

Barnstable Town, MA

$110,462 per year

Inverness, CA

$109,654 per year

Norwalk, CT

$109,195 per year
A telemedicine doctor (telehealth physician) works much like a traditional physician but uses technology to consult remotely.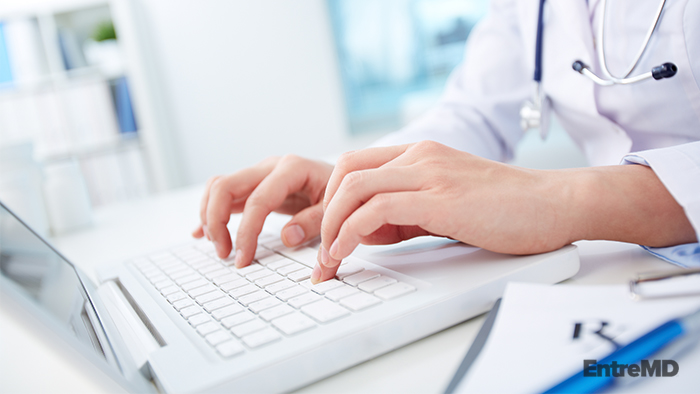 They still answer questions about common complaints, make recommendations, provide a diagnosis, provide prescriptions and treatments and let patients know if they require a further in-office visit.
The biggest learning curve in providing telemedicine comes with using the newest technology to give the best care to patients. The doctor won't just communicate with their patients; they'll also communicate remotely with other and related healthcare sectors.
What are Licensing Laws for Telehealth Doctors?
As a telehealth doctor, you need to be licensed in the state(s) in which you practice. You can treat a wide range of patients' ills depending on your specialty, the same as you would in person.
While some telemedicine doctors address acute needs — sore throats and urinary tract infections, others deal more with chronic conditions — pain, diabetes, hypertension, and heart disease.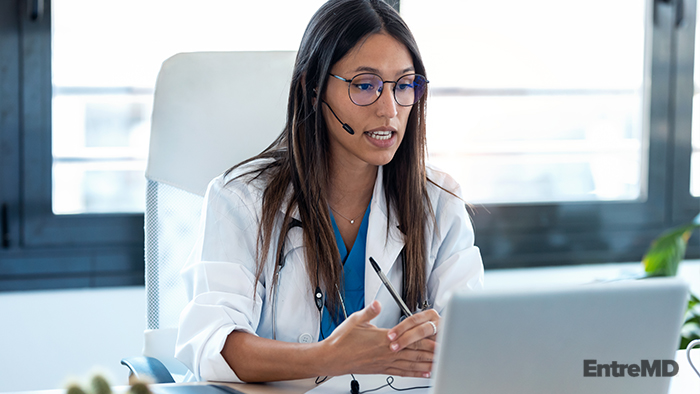 You can often choose the schedule that works best for you. You can choose to practice telemedicine full time, or you can keep your practice and add extra hours that suit your lifestyle.
Highest Ranked Companies for Telemedicine Physicians in the U.S.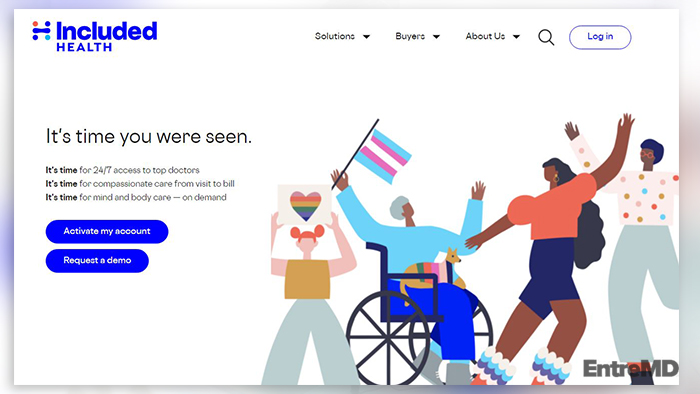 | | |
| --- | --- |
| Average salary | $381,771 per year |
| CEO's performance rating | Owen Tripp: 82% |
| Company size | 1,001 to 5,000 |
| Work happiness score | 60 (average) |
| Flexibility score | 73 (above average) |
| Purpose | 69 (average) |
| Stars given | 3.4 |
What Included Health Says About Themselves
"Included Health is a new kind of healthcare company, delivering integrated virtual care and navigation. We're on a mission to raise the standard of healthcare for everyone.

We break down barriers to provide high-quality care for every person in every community — no matter where they are in their health journey or what type of care they need, from acute to chronic, behavioral to physical.

We offer our members care guidance, advocacy, and access to personalized virtual and in-person care for everyday and urgent care, primary care, behavioral health, and specialty care. It's all included."
Included Health Physician Requirements
"At least five years of clinical practice experience post-training.

Be a licensed provider in good standing with your state board.

Board-certified in Family Medicine, Internal Medicine, or Med-Peds.

Be open to obtaining and maintaining additional licenses.

Be open to and enthusiastic about clinical supervision of N.P. and P.A. colleagues if needed.

Excel at communicating with patients and other clinicians and enjoy doing so.

Be efficient at writing and communicating medical information at a patient level and have strong attention to detail.

Be highly empathetic. We work with patients and their families who are going through challenging times. Ideal candidates practice empathy and reassure patients that we are available to help them.

Must be able to work efficiently. Good judgment for balancing priorities is a must.

Demonstrated ability/flexibility to work cross-functionally in a fast-growing company where fast-paced change is the norm.

Comfort working at a rapid pace and with a high degree of autonomy within a complex and changing work environment."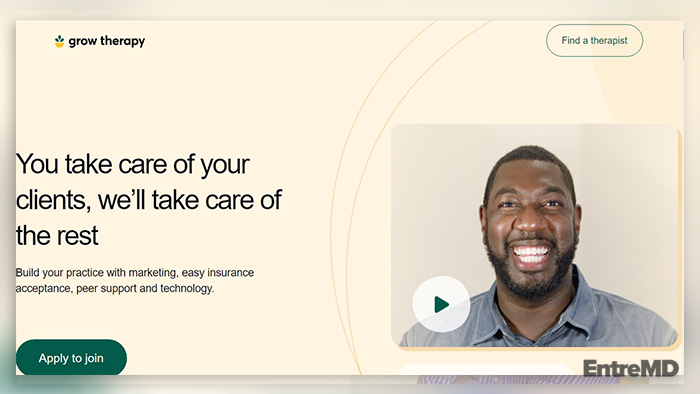 | | |
| --- | --- |
| Average salary | $375,601 per year |
| CEO's performance rating | Jake Cooper: 100% |
| Company size | 1,001 to 5,000 |
| Work happiness score | 95 (high) |
| Flexibility score | 95 (high) |
| Purpose | 96 (high) |
| Stars given | 4.8 |
What Grow Therapy Says About Themselves
"We believe that behavioral healthcare is broken. Independent providers work tirelessly to fill their practice, accept insurance, and make a decent wage. Meanwhile, patients who pay thousands annually in insurance premiums struggle to find affordable care, let alone an intimate clinical partnership.

It does not need to be this way.

We are a team of healthcare veterans, providers, and entrepreneurs who will not settle for the status quo. We believe providers shouldn't have to decide between independence or administrative support, a diverse client base or a decent living; a full practice or clinical autonomy.

Grow brings group power to independent practice, empowering private practices to tap into large-scale referral, administrative, and community support so that providers can enjoy the freedom of choosing when, where and who to work with without the hassle of mundane admin tasks like billing and insurance claims."
Grow Therapy Physician Requirements
"LPC, LMHC, LCSW, LMFT, PsyD, Ph.D. or M.D.

Licensed in V.A.

1-3+ years of experience.

Malpractice Insurance."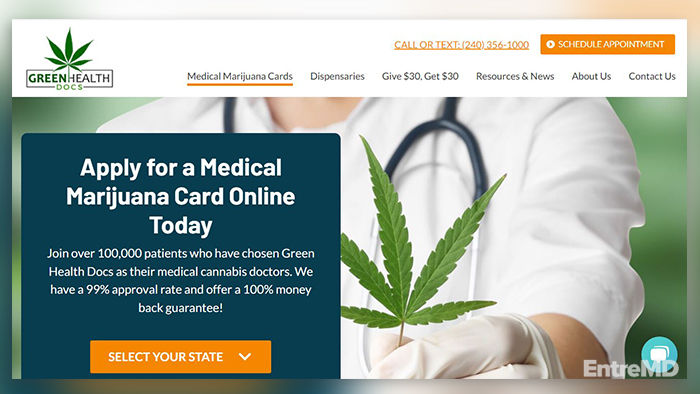 | | |
| --- | --- |
| Average salary | $288,701 per year |
| CEO's performance rating | Dr. Anand Dugar: not listed |
| Company size | Not listed |
| Work happiness score | 75 (above average) |
| Flexibility score | 78 (above average) |
| Purpose | 74 (above average) |
| Stars given | 3.6 |
What Green Heath Docs Says About Themselves
"[Our mission is to] combat the nation's opioid epidemic and give patients back control of their lives with natural medications like medical marijuana. Founded by a team of pain medicine doctors, anesthesiologists, and surgeons, Green Health Docs knew that there had to be a better way to help patients.

The State of Montana has made medical cannabis legal for patients suffering from a wide variety of conditions. We are looking for those who want to join our team and certify patients for the Medical Cannabis Program.

We are a national company with offices in Utah, Maryland, West Virginia, and Missouri and telemedicine in 25 states. Our goal is to develop new partnerships with doctors in major cities all around Montana."
Green Health Docs Physician Requirements
"MD/DO License to practice in Montana.

DEA & Controlled Substance License.

Ability to utilize technology, specifically the in-house EMR system (we will train)."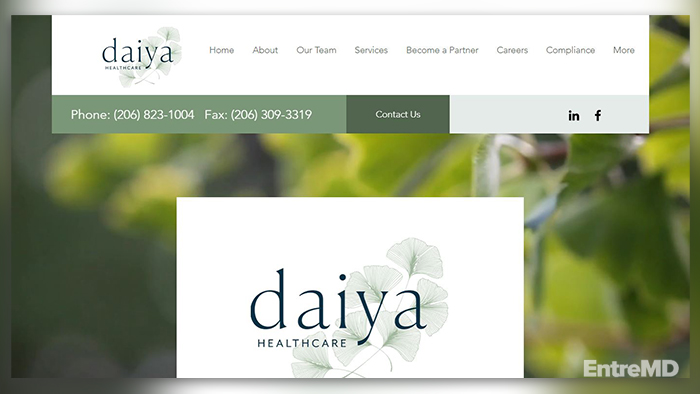 | | |
| --- | --- |
| Average salary | $237,172 per year |
| CEO's performance rating | Dr. Bhupinder Walia: not listed |
| Company size | Not listed |
| Work/life balance | 3.7 stars |
| Pay and benefits | 3.6 |
| Management | 3.6 |
| Stars given | 3.8 |
What Daiya Healthcare Says About Themselves
"At Daiya Healthcare, our goal is to provide accessible healthcare services 24 hours per day. Telemedicine is an integral part of the post-acute care services that we provide. Telemedicine offers a variety of benefits to the patients in our partnering facilities, including:

Onsite medical assistants facilitate telemedicine visits with providers, enabling facility staff to focus on patient care.

Quickly addresses health issues, leading to improved patient outcomes and reduced hospital readmission rates.

Telemedicine services provide additional revenue to our partnering skilled nursing facilities."
Daiya Healthcare Physician Requirements
"We are hiring M.D.s, DOs, ARNPs, and P.A.s in internal medicine as well as for multiple specialties, including cardiology, pain management, palliative care, physiatry, psychiatry, and nephrology. We are seeking providers who are able to practice independently with limited oversight. Hospitalist or previous post-acute care experience is a definite plus."
Back to the Money
It seems that many telehealth physicians are being paid by the consultation rather than as a yearly salary. In some cases, telehealth doctors can be paid by the hour or by the number of emails or texts they send to their patients or other providers.
If you're being paid by the hour, you can expect to make an average of $46.00 for consultations on internal medicine, family practice, and pediatrics. Psychiatric telehealth physicians can expect to make more than this. Each consultation typically takes between 3 to 15 minutes.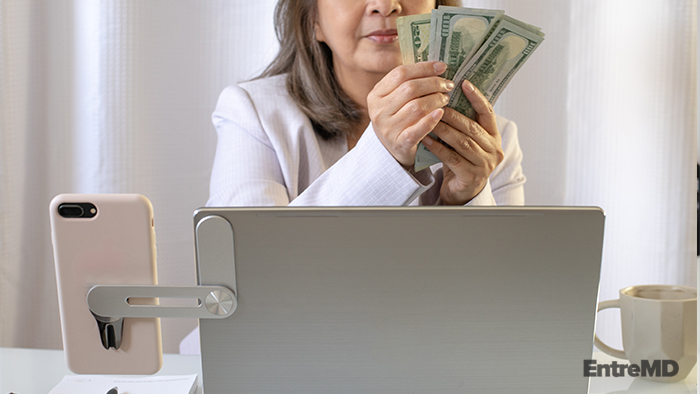 ZipRecruiter says they see hourly wages as high as $125.24 and as low as $8.89. Still, the majority of telemedicine doctors who work from home earn between $18.51 (25th percentile) to $52.64 (75th percentile) across the U.S.
Considerations When Determining Pay as a Telemedicine Doctor
While many variables affect the average salary of a telemedicine doctor, there is also a lot of flexibility in this new field. This lets you work how much you want, when, where, and often.
1. Where are You Licensed to Practice?
Just like in in-person physician care, you need to be licensed to practice in the state where your patient lives. However, you can expand your online practice by becoming licensed in more than one state.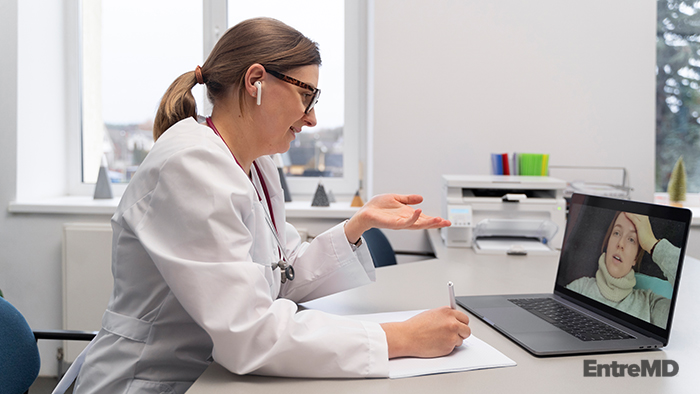 Certain states have higher needs for telehealth services, and others have more patients who choose to use telemedicine. Getting licenses for states with the highest hourly and yearly wages can make a big difference to your income and give you more freedom to make choices that suit your lifestyle.
While the list of the highest-paying telemedicine salaries is listed above, some of the states with the lowest wages include North Carolina, Florida, Missouri, Mississippi, Alabama, and Illinois.
2. Are You a Generalist or a Specialist?
Not surprisingly, your area of expertise and specialization also impacts your earning potential. A family practice or working as an internist won't pay as much as specialties like adult and child psychiatry, gastroenterology, and endocrinology.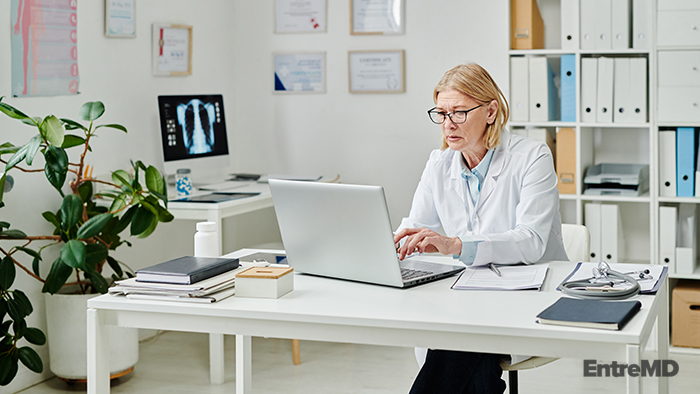 While telehealth family medicine physicians make an average of $191,102 per year, telehealth cardiologists can make $464,000 yearly, and telehealth radiologists make $494,400 yearly (on average).
3. How Much Can You Work?
One of the beauties of telemedicine is that you can choose full-time or part-time work. The average telemedicine doctor can see four patients per hour — each for 15 minutes. This number will help you determine how many patients you can easily see each hour and what time of day would suit you and them best.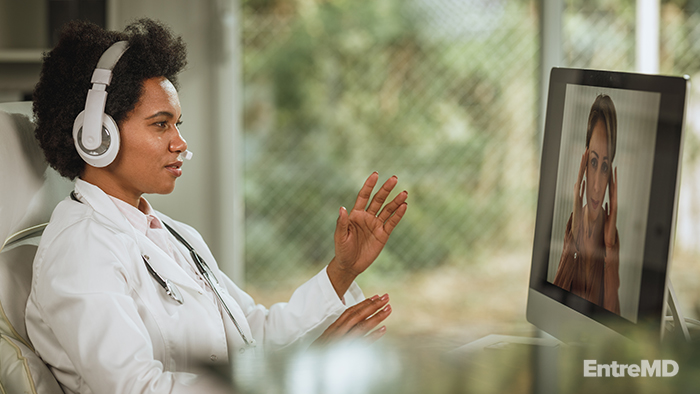 If you're interested in adding licenses in additional or higher-paying states, you'll want to consider the time difference between where you live and where your patients live. This difference might be to your advantage, but it may have you working hours when you need to sleep or have family time.
4. Who Will You Partner With?
There are many companies and platforms you can choose to work with as a telemedicine physician. Each company will help determine how many patients you can see in an hour and what compensation and benefits they'll offer.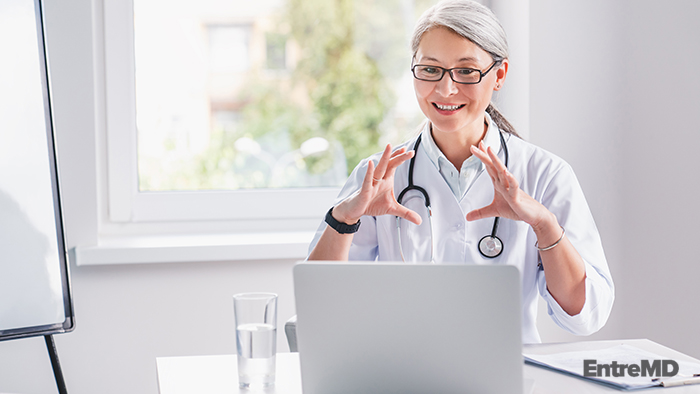 As I mentioned above, telemedicine does involve a learning curve when it comes to the digital application of platforms and programs. But like any other skill, the more you practice, the faster and easier this specific technology will become.
Are you finding telemedicine, at least part-time, is growing in your practice? I'd like to hear about your experiences as you jump on board this new way to become an EntreMD. Please feel free to reach out and contact me, and we can get a conversation started! Additionally, if you have any questions or concerns on the topic of telemedicine, be sure to let me know! I'd be more than happy to answer any questions and clear up any concerns you may be having!
As always, I'll be here to support you in any way I can!