As we get close to the end of the year, many holidays are coming up—Halloween in October, Thanksgiving in November, and Christmas in December. And what ends up happening is that most of the time, we stay in holiday mode. And sometimes, we tend to forget about the goals we've set or the goals we need to set for the following year. We end up not thinking about accomplishing things, or we don't think about closing the year strong.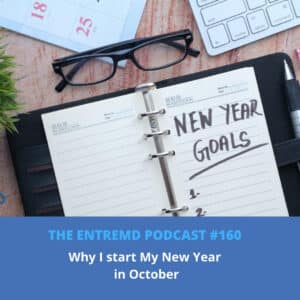 In this episode, I will share a concept that I developed as a habit that has helped me be more productive for the past two decades of my life. This has enabled me to take advantage of the fourth quarter of the year without worrying about missing the holidays. It begins with me starting my new year in October. 
Tune in this week to know more about how you can start planning the following year by creating balance in your life, even during the holiday season.
If you loved this episode of The EntreMD Podcast, I invite you to join my signature subscription program EntreMD On Demand, giving you access to a library of business courses designed to help you thrive as a physician entrepreneur! 
What You'll Learn from this episode:
How I stay productive in the fourth quarter of the year

How I find balance in life during the holiday season 

Setting your goals in September and starting the year in October. 
Listen to the Episode Here: 
Featured on the Show:
If you're ready to build a business that lets you live life and practice medicine on your terms, check out the EntreMD Business School!